Archives
Last year, I subscribed to the print edition of the Philadelphia Inquirer, mostly to pass the time on my daily commute on the train. The paper has plenty of solid reporting, and I enjoyed working on the daily crossword puzzle, too.
While they guaranteed delivery by 6:30 a.m., the paper often showed up after I left the house around 6:55 each morning — or sometimes, not at all. I placed two polite but firm calls to their subscription office, but the chronic delivery problems persisted. In response, I declined to renew my subscription. But now, they've called me on several occasions, acknowledging their previous mistakes and begging me to "let them prove themselves to me."
Sorry, guys, you simply should have cared more when I was still a paying customer. And given that print newspapers are a dying industry, you'd think they would have done anything to keep me.
[ No. 600 ]
My annual tradition of throwing a big St. Patrick's Day party has now entered its fifth year. Unlike the last four parties, I was unable to take a vacation day on the Friday before the big bash, but coordinating all of the preparations with Joan was a huge help!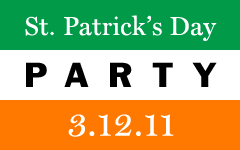 Shortly before the party, we ordered a handsome bar cabinet from Crate & Barrel, which cleared plenty of space in the kitchen and allowed our guests to concoct a signature drink called the Nutty Irishman (one ounce each of Irish wishkey, Irish cream liqueur, and Frangelico over ice). And we were very proud to present our redecorated bedroom, including a gorgeous framed print of a sunset from our Key West trip.
A total of 46 people attended this year (a much more manageable crowd than last year), and we were honored to have Joan's dad and his girlfriend Cathy join the festivities and meet my family for the first time. Hopefully we can get everyone together next year, too!
[ No. 599 ]
On an otherwise nondescript weekday morning in March 2001, I selected a small group of computer files that I'd been working on for a few weeks and uploaded them to a hosting account that I had recently opened. I then opened a new browser window, and there it was — version 1.0 of my first Web site. Out there on the Internet.
About six weeks later, I posted a modest blurb on the home page about a conference I had attended in Boston. Looking at it now, I have to laugh at its brevity; it's not easy to summarize a three-day event in just 36 words.
I also remember that, at the time, I had no intention of starting one of those self-important "weblog" things I had heard about. But that seemingly harmless update on the home page was followed by a second one about my sister's college graduation, and before long, I had a blog after all. Little did I know back then — a prehistoric era during which I owned neither a computer at home (!) nor a cell phone — what the site would eventually become.
I'll admit that I don't write blog entries as often as I once did, and the fact that the site remains completely hand-coded 10 years later is slighty embarrassing. (Yes, I know there are plenty of software options for blogging.) Still, it remains a fun project for me, and I marvel at the variety of stories and opinions that I've written since my mid-20s. I wouldn't have remembered most of the details if I hadn't captured them here.
A lot of things have changed dramatically since Mar. 1, 2001. I even recounted my journey from 2000 through 2009 in a lengthy post from January 2010. But even since then, I started a terrific new job last summer and proposed to Joan, the love of my life, this past Christmas. Who knows what life-changing events will transpire over the next 10 years?
[ No. 598 ]