Archives
The dating scene hasn't been particularly kind to me over the years.
At worst, I've endured a few moments of genuinely bad behavior. One woman I met ultimately turned out to be too rude to possibly go out with, and later that year, the daughter of a family friend (!) inexplicably stood me up on the night of our first date. And on several occasions, after a first date that I thought had gone quite well, my subsequent phone call went unanswered.
Some of my friends, usually those who were already involved in happy relationships, would ask me, "So, what kind of girl are you looking for?"
"The kind that returns my phone calls," I'd reply, frowning.
"Oh, wow, that's funny!"
"Yeah, I'm not really kidding."
All of that changed when I met Joan through eHarmony in late 2009. She was kind, generous, beautiful, funny, and most importantly, willing to make time to spend with me, despite her grueling schedule as a resident OB/GYN. I frequently tell her I'm the luckiest guy in the world to have her in my life, and that's more true with each passing day.
* * * * *
The morning of Dec. 23 began with a milestone unrelated to dating. Since we were both off from work that day, Joan decided to end the lease on her silver 2007 Nissan Sentra and drove home in a black 2011 Nissan Rogue, a sharp-looking "crossover" SUV. She had dealt with some white-knuckle drives in her Sentra during last winter's record snowfall, and the Rogue's four-wheel drive is practically a requirement for anyone who works in medicine and simply must get to the hospital.
That evening, we took her brand-new set of wheels into Center City for a festive night on the town, beginning with the 7 p.m. presentation of the famous Christmas Light Show at Macy's in the old Wanamaker's building. Thankfully, the giant Christmas tree has been restored in the display, and the new LED lights and Julie Andrews' voice-overs were pleasant improvements that didn't detract from the charm of the decades-old show.
We walked to South 20th Street, where we put our names in at Village Whiskey, a restaurant we'd wanted to try since our third date last fall. During the forecasted hour-long wait, we walked to Smith & Wollensky in the Rittenhouse Hotel for some drinks. Our beverages, an Irish coffee (with fresh whipped cream!) and a hot toddy, were far too strong, but we were surprised to see Mayor Michael Nutter and his colleagues sitting down the bar from us!
We returned to Village Whiskey for a delicious dinner; their gourmet burgers were among the best I've ever had. Here's a picture of us at the restaurant (note that Joan has no idea what I have planned after our meal):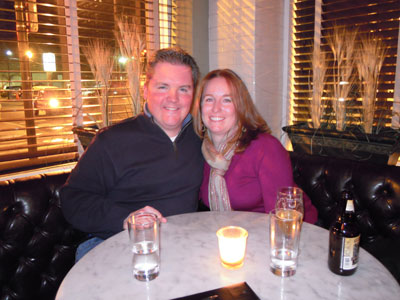 Our tasty dinner was followed by a short walk back to Rittenhouse Square, where we admired the large Christmas tree and overhead white lights in the cold night air. As a few people milled around us, I accompanied Joan to one side of the tree, told her in great detail how much I loved her, and got down on one knee to ask her to marry me.
With tears in her eyes and a wide smile on her face, Joan said yes! And with that, I presented her with the lovely solitaire engagement ring I had bought the week before.
The magical moment took place here, just to the left of the tree: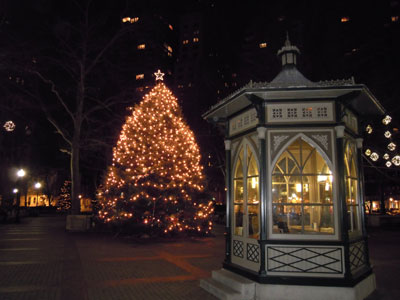 The rest of our night together was a blur. We used her new car's Bluetooth setup to call her parents and sister Laura, then I called my parents with the great news after we returned home. Best of all, we could both look forward to several Christmas get-togethers with family and friends as a newly engaged couple.
It took me a long time to find someone as wonderful as Joan. But the wait was absolutely worthwhile, and I'm incredibly excited to call her my fiancée.
[ No. 594 ]
The Spectrum, a famous indoor sports arena and concert venue in South Philadelphia since 1967, began to meet its end last week. Its demolition is expected to take place over the next few months.
Along with Veterans Stadium, which was taken down in 2004, the Spectrum was an important part of my childhood. I attended my first-ever 76ers game there in October 1983, as well as my first rock concert — Huey Lewis and the News during their Small World tour — in August 1988. Over the years, I went to many more Sixers games, a few minor-league hockey (Phantoms) and soccer (KiXX) matches, and watched terrific live performances by Phil Collins, Eric Clapton, and Barenaked Ladies. And I have all of the ticket stubs to prove I was there!
I remember being fascinated by the original scoreboard that hung in the rafters of the Spectrum until it was replaced by a newer one in the mid-1980s. And thanks to the amazing power of Google, I was able to find a photo of it from a Flyers game in 1977: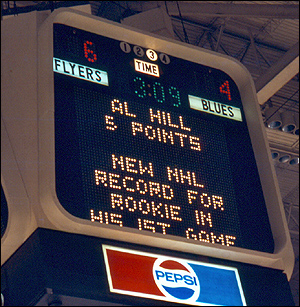 Farewell, Spectrum! In a depressing era of constantly renaming arenas after newly merged banks, you'll be missed as a true original.
[ No. 593 ]
Photo credit: Philadelphia Flyers