Archives
One short week after a fun trip to New York City, Joan and I embarked on a well-earned winter getaway to Florida!
Sunday. After only a few hours of sleep, we drove on deserted, pre-dawn highways to the Philadelphia airport, then boarded a direct flight to Miami. On the ground, we rented a comfortable gray Camry from Hertz and made our way to the Palmer Hotel, a very chic South Beach hotel built in 1939. We checked in, then walked to the nearby Carlyle for an outdoor lunch, which included a gigantic margarita that included refills; only upon receiving the bill did we realize that the beverage cost $25!
Still exhausted from a dearth of sleep, we took a long afternoon nap. By dusk, Joan's friends Camilo and Tiffany picked us up at the hotel and drove us to Versailles for a wonderful, authentic Cuban dinner. We then enjoyed a drive around Miami, then crashed at the hotel.
Monday. Following a light breakfast at a nearby Starbucks, we stopped by the Art Deco Welcome Center, checked out of the Palmer House, and began our exciting journey to Key West. Naturally, we began our southbound trip out of Miami with the Miami Vice soundtrack playing in our rental car. The drive was much longer than we expected, between plenty of traffic lights along Route 1 before the Keys and lots of construction after we left the mainland. But we did enjoy a leisurely waterfront lunch at Snapper's in Key Largo, and enjoyed the scenic drive despite some cloud cover.
After about five hours on the road, we reached the Hyatt Key West, easily one of the most beautiful hotels I've ever visited. Here's the view from an outdoor staircase near our room: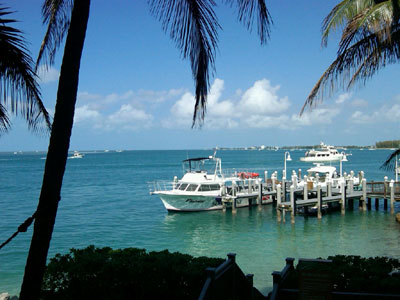 But we were even more tired from the long drive, so the rest of our first day consisted of another long nap, a light dinner at the hotel's outdoor bar, the Blue Mojito, and our first stroll along the main drag in town, Duval Street.
Tuesday. Our first full day in Key West was abundant with sunshine. Joan and I ate a late brunch at the Grand Cafe on Duval, then made reservations to go parasailing! Through a local company named Sebago, we soared over the water together, tethered by 600 feet of rope, and even spotten a sea turtle in the turquoise ocean. After a dip in the hotel hot tub, we walked to Mallory Square to watch the sunset on the water in a carnival-like atmosphere, complete with street performers and food vendors. We ended our day with a lovely dinner at the Roof Top Cafe.
Wednesday. This was arguably our busiest day on the island. We started out by renting mopeds from the hotel; Joan was a natural at it, while I struggled mightily to moderate my speed. In fact, to be completely honest, one of my wobbly practice laps nearly took out one of the beach bums who hang out all day (and every day) on the sand next to the Hyatt! We motored over to a lovely place called Sarabeth's for a well-earned breakfast, continued on to the Southernmost Point of the U.S. for pictures (where an aging tourist openly admired my moped), then joined a crowded tour of Ernest Hemingway's house.
Later in the afternoon, we went on a snorkeling expedition dozens of miles out to sea, although we were surprised by the chilly water, moderately freaked out by the presence of Portuguese Man o' War jellyfish (!), and disappointed by poor late-afternoon visibility under the surface. After an action-packed day all over town, we enjoyed dinner at the open-air Conch Seafood Company, right on the boat-filled marina.
Thursday. Every trip needs at least one day that's a vacation-within-a-vacation. Our agenda included a light breakfast at Starbucks, a relaxing visit to the hotel pool, and a surprisingly thorough, informative Conch Tour Train ride around the entire island. Our final dinner in Key West took place at the hotel restaurant, Shor, where I enjoyed shrimp with key lime butter sauce (which sounds as good as it tasted). We shopped along Duval Street, then enjoyed a few beers at Sloppy Joe's and Irish Kevin's. A late-night return to the hotel hot tub ended a wonderfully relaxing day.
Friday. We found it hard to believe that our well-deserved break from reality was already drawing to a close. After a brief stop by the hotel gift shop for one of the few T-shirts I could actually see myself wearing, we checked out and stopped by Two Friends Patio Restaurant for a delicious final breakfast on the island. On our way out of town, we took some pictures of ourselves by the famous Mile Marker 0 on US Route 1, then drove back through the gorgeous Keys toward Miami.
We made another Starbucks stop on the way for some iced caffeine. We returned our rental car quickly, but inside the airport, our jar of preserves from Sarabeth's (a gift for Joan's mom) was rejected by the TSA. (This is certainly nothing new for yours truly; it's always something.) Both legs of our trip through Charlotte arrived early, and we returned to Chesterbrook tired but grateful for a wonderful vacation.
And I must say, getting out of the cold and snow just for a few days can do wonders. We've caught the bug — I think we simply must go somewhere warm next winter, too.
[ No. 596 ]
To celebrate the birthday of Joan's sister Laura, we embarked on a weekend trip to New York City!
Joan and I rode a blissfully quiet, stress-free Amtrak train from 30th Street Station to Penn Station, then met up with Laura and her boyfriend Jeremy for a light dinner at Europa Cafe. We then walked across the street to Carnegie Hall, where we watched a great stand-up comedy show by Aziz Ansari. A round of coffee and enormous desserts at Lindy's rounded out the evening, then we rode the subway back to Laura and Jeremy's apartment in Brooklyn.
On Sunday morning, we hopped back on the subway to Greenwich Village, where the four of us met up with Joan and Laura's mom at a handsome restaurant called Garage. Our late-morning meal was terrific (surf-and-turf eggs Benedict!), and it was even accompanied by a talented live jazz quartet.
A cab ride back to Penn Station and an Amtrak ride back to 30th Street brought our fun weekend to a close. Hope you had a great birthday, Laura!
[ No. 595 ]