Welcome!
Joan and I have finally bought a house together, and now it's time for us to move out of our Chesterbrook condo.
Given how much we needed to move, we asked Joan's dad and stepmom to watch Michael for the weekend — an offer that they happily accepted. Between Thursday night and Friday afternoon, Joan's sister Laura and their mom arrived and were a huge help in packing the remainder of our stuff.
Our big day started with the arrival of four workmen from USA Express Moving, the same company that had helped Joan move into my place five years ago. They were very efficient in clearing out the furniture and boxes from our condo, then loaded up the boxes from our detached garage in practically no time. By early afternoon, we proceeded in a caravan for the 10-mile drive mostly along Route 252 to our new house in Newtown Square.
Moving in went very well with just one exception — my tall bedroom dresser simply wouldn't fit up the stairs! We'll have to work on a solution to that, but if that's our biggest problem, we're in pretty good shape.
Joan and I took advantage of our Saturday night alone to celebrate with dinner at Yangming, an esteemed Chinese restaurant in nearby Bryn Mawr. Our meal was delicious, but only a few days later, we were shocked to learn that the establishment had been shut down by local health officials due to a roach infestation! (I really hope that's not a bad omen for the house.)
It was surreal for Joan and I to sleep in our new house for the first time on Saturday night, and it will take a while for us to get accustomed to our new surroundings. But it's very exciting to finally start the process of getting settled.
[ No. 685 ]
I've been living happily in Chesterbrook, Pa., for the past 11 years, longer than anywhere else aside from my childhood home. But the time has come for a big change — Joan and I have bought a single-family house!
* * * * *
In June 2004, I made my first home purchase in the Chesterbrook neighborhood of Valley Stream Village. At the time, I was 29 and single, and my new two-bedroom condo with a loft and detached garage felt like a palace, especially compared to my previous one-bedroom apartment in nearby West Chester. I hardly knew what to do with all of the space.
More than a few wonderful changes have taken place in my life while I've resided in Chesterbrook. It's where Joan and I first lived together, starting with her move from the city a few months before we were engaged. It's where I woke up on the beautiful May morning of our wedding. And it's where we brought our son Michael home from the hospital; our Chesterbrook condo is the first home that he's ever known.
As of last spring, my former bachelor pad was home to three people, including one increasingly mobile little one. Joan and I still loved our place, but it was becoming increasingly cramped, and our ability to entertain guests or host our relatives for an overnight stay was difficult at best. So, Joan and I began searching for a single-family home with our realtor, Nancy, starting with several house visits in April 2014.
We expected our search to take some time, but it wound up taking over a full year. During that span, Joan and I visited 37 houses for sale, drove past (and often ruled out) many more, and viewed hundreds of listings through daily e-mail alerts. We came close to making an offer on a few occasions, but we couldn't ignore some glaring problems. One beautiful home happened to be located in a FEMA-designated flood zone, and another promising candidate only offered an underground crawl space (four feet deep at the most) instead of a true basement.
Finally, in late April of this year, Joan and I made our first offer on a stylish farmhouse-style home on a cul-de-sac in Newtown Square, Pa. The early negotiations on the price were surprisingly tense, and the inspection revealed that the original, 28-year-old roof contained cracked shingles and was at the end of its useful life. We requested a financial credit to cover a portion of the estimated $20,000 cost to replace the roof, and even wrote a personal letter to the sellers in the hopes of a reasonable compromise. But the owners refused to budge, perhaps under the incorrect assumption that we wanted to buy the house at any cost.
Joan and I reluctantly terminated the sale, and the sellers even made a feeble attempt to negotiate only after we had decided to walk away.
* * * * *
A few weeks later, we made an offer on an updated colonial house, also located in Newtown Square. The process went much more smoothly, and the sellers, who were being relocated to the Boston area, offered substantial credits toward some repairs and generously provided a personal walk-through of the home!
The four-bedroom house was built in 1967, but it had been completely renovated less than 10 years ago, and the most recent owners added significant upgrades since then, including a French drain in the backyard and solar panels on the rear roof! Also, many of the permanent features of the house were superior to the previous one, including a larger lot, flat front yard, more attractive neighborhood, and a better school district.
After a tremendous amount of preparation for our new mortgage and homeowner's insurance policy, Joan and I took a day off from work to attend settlement on a Wednesday morning. The meeting took place at the Berkshire Hathaway offices in Devon, Pa., in the very same building as my previous settlement for my condo in Chesterbrook!
Joan and I celebrated with an indulgent lunch at the Capital Grille in King of Prussia, and took Michael over to see his new house that evening.
We still have a lot of work in front of us, including moving, unpacking, and selling our old place. But it's a relief to finally get settled in a comfortable home, and we're looking forward to many happy years in Newtown Square!
[ No. 684 ]
Our son Michael has become a big fan of the show Thomas and Friends — the main character of which you might know better as Thomas the Tank Engine. The show's 10-minute episodes are actually quite good among the other programs on the Sprout network. (Michael also likes Caillou, but I've found its main character to be pretty whiny and irritating.)
When Joan and I discovered that there's an actual passenger train in Thomas' exact likeness, we purchased tickets for a Day Out with Thomas event right away!
The event was held at the historic Strasburg Railroad, not far from Lancaster, Pa., and about an hour from our house. Despite some light drizzle throughout the morning, we were able to take an enjoyable 20-minute round-trip ride on both Thomas (pictured below) as well as his green mail-carrying friend, Percy.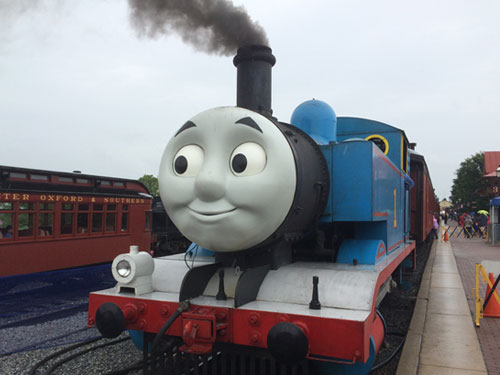 Thankfully, our Day Out experience was very well organized and enjoyable for parents and young kids alike. I doubt that I've ever seen so many strollers parked in one place, and the amount of Thomas-related merchandise under a big-top tent was pretty astounding.
[ No. 683 ]
After such a long, cold winter, when we were stuck indoors more often than not, Joan and I looked forward to making plans for family outings in the spring. The Elmwood Park Zoo was on our short list, and it was a wonderful experience!
The zoo seemed practically designed for young kids. You can see most of the park in under two hours (perfect for a morning trip before nap time), and its on-site playground and merry-go-round were a huge hit with Michael. But despite its small scale, the zoo included a wide variety of animals, including bison, leopards, and even a giraffe, one of which Michael was allowed to feed from an elevated platform!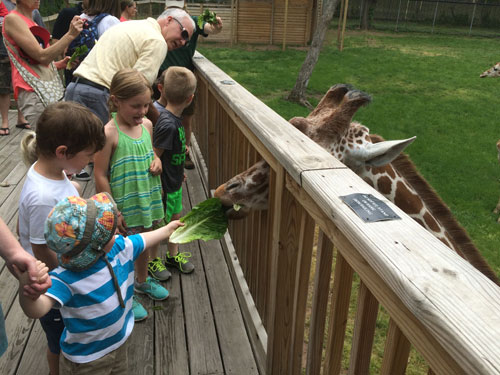 What a great morning out! We're definitely coming back.
[ No. 682 ]
In advance of Michael's second birthday on Mar. 30, Joan and I hosted a party for him at our house. The celebration was quite similar to the one from last year with two exceptions: Joan was feeling much better, and in addition to close family members, we also invited Matthew, Michael's good friend from day care, and his parents to the party.
The two little guys really enjoyed dining at their own table — here's Matthew on the left and Michael on the right: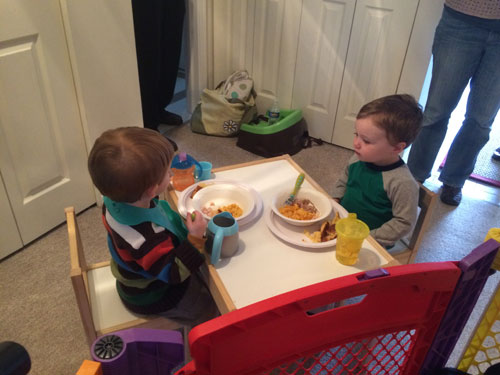 We opted for take-out catering from Zachary's BBQ in Norristown, and their pulled pork was among the best we've ever had.
Michael loved opening all of his presents from his family and friends, and he particularly enjoyed having everyone sing "Happy Birthday" to him. After two great years, Joan and I are prouder than ever to be his parents!
[ No. 681 ]
During this bitterly cold winter, I've taken some solace in looking forward to a fun event with family and friends. Our traditional St. Patrick's Day party — now in its ninth year and our second one with Michael following his debut last year — is hard to beat.
Joan and I have most of the party planning down to a science by now. Doing most of the shopping the day before really helps, and the catered dishes from Wegmans were as tasty as ever. The process of housecleaning and food preparation never seems to end until the first guests arrive, but everything worked out as well as we could expect.
We welcomed a slightly larger crowd than last year — about 40 people joined the festivities, and Joan and I hadn't seen many of them for quite a while. Michael clearly enjoyed all of the excitement and mingled with our friends for the first two hours, then slept overnight at my parents' house in West Chester.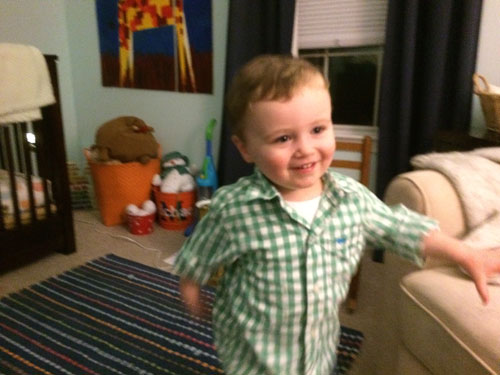 Thanks to everyone for helping us celebrate yet another special night!
[ No. 680 ]
For the first time since our Key West trip in 2011, Joan and I embarked on another much-needed winter getaway — this time to Marco Island, Florida!
Thursday. Having dropped off Michael at my parents' house the night before, Joan and I drove to the Philadelphia airport and arrived early enough to enjoy breakfast at Legal Sea Foods. (Seriously, their crabmeat omelette was delicious!) Our flight was quite pleasant, except for some painful pressure in my ears as we descended into Fort Myers.
After we picked up our rental car, a comfortable silver Chevy Impala, Joan and I made one nostalgic stop along the way. I was curious to see the apartment complex where I used to live when I worked for General Electric in 1997. I had never returned to Fort Myers since moving back to the Philly area, and it was strange to see my old place after nearly 18 years. The surrounding area seemed more congested and built-up, but the apartments had been renovated nicely and the complex even sported a new name — what I remember as the Beach Club Apartments is now called Sienna at Vista Lake.
After some heavy traffic out of Fort Myers, we took a break for a late lunch at a Five Guys before finally arriving at the Marco Island Marriott, a beautiful beachfront resort. We checked into our room on the third floor and placed a Skype call to catch up with Michael and my parents. Completely exhausted and slightly under the weather, I took a two-hour evening nap before we ordered a late dinner from room service.
Friday. Joan and I shared a light breakfast at the hotel's San Marco Café coffee shop, then arrived for our scheduled couple's massage, which was wonderfully relaxing. During the afternoon, we took full advantage of our daylong access to the spa, including its private outdoor pool and mineral whirlpool. Later in the evening, we opted for a casual dinner at the aptly named Quinn's on the Beach.
Saturday. We indulged in a terrific breakfast buffet at Tropiks in the hotel, then took a long walk along the pristine beach. We spent the afternoon on chaise lounges on the beach before watching a spectacular sunset over the Gulf of Mexico.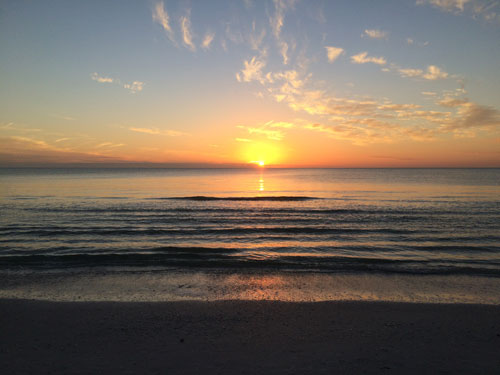 As night fell, we ventured out for dinner at Joey's Pizza & Pasta House, a nearby restaurant on the island that my parents had highly recommended — and they were right!
Sunday. After another delicious buffet breakfast, we took another walk on the beach, this time in the opposite direction toward Cape Marco, where we found lots of interesting shells. We opted to spend the warm, sunny afternoon relaxing by one of the two large pools at the hotel.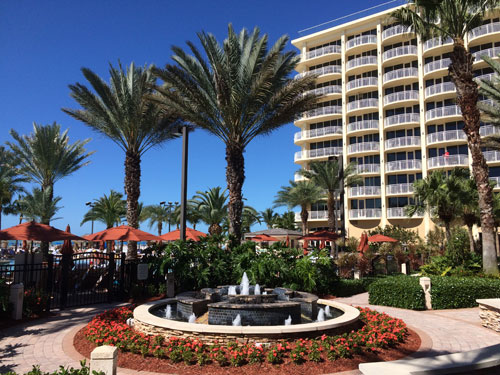 Later, we got dressed up for dinner at Kurrents, yet another restaurant within the resort. Our evening concluded with a walk to Beebe's Ice Cream and watching some of the Grammy Awards on TV.
Monday. On our last full day in Florida, we enjoyed some coffee and breakfast sandwiches at a Starbucks on our way to Naples, where we shopped in the Fifth Street South and Third Street districts. Along the way, we shared mid-afternoon drinks and appetizers at L'Angolo 5th Ave and thoroughly enjoyed an upscale Italian dinner at Vergina (another stellar recommendation from my folks).
Tuesday. Joan and I checked out from the Marriott and drove back to the Fort Myers airport, where we turned in our rental car and waited for our flight home. Surprisingly, we bumped into my coworker Eric and his wife and young son at the airport — they had spent a few days in the Florida sun as well!
When we finally returned to our house, my parents were just walking up to our door with Michael. He seemed to enjoy seeing us during our Skype calls over the previous few days, but when he saw Joan and me in person, I don't think I've ever seen a bigger smile on his face! Naturally, we were thrilled to be reunited with him as well.
[ No. 679 ]
Archives
For posts dating back to 2001, please proceed to the Archives section.