Archives
Back when I turned 30, I was amazed at how quickly my 20s had flown by. And now, on my 40th birthday, I can confirm that my 30s have come and gone at least twice as fast.
During the afternoon of my day off from work, my parents and Joan's dad met up with Joan and me at Michael's day care for his second Halloween parade. His costume as a farmer — complete with a John Deere hat, a pair of Timberland boots, and a red bandana in the back pocket of his overalls — came together really well. Much like last year, he seemed quite comfortable, and unlike most Halloween costumes, he'll be able to wear most of the clothes again, too.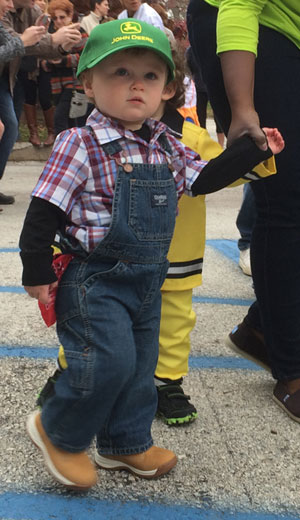 After we came home, we enjoyed a delicious dinner of chili and cornbread. For my birthday, my family presented me with a really special gift — a framed print called West on 96th Street, which was originally painted by Mary Ledwith in 1988. The artwork is a beautiful depiction of downtown Stone Harbor, and my family knew that I had admired it for years!
[ No. 670 ]
After nearly a decade since the last significant redesign of this website, I've finally launched a brand-new version of monorailmike.com!
This latest design includes a wider layout, improved typography, and more consistent formatting throughout. Behind the scenes, I've continued to hand-code all of the pages that comprise the site, but I've upgraded the markup so that it's much easier for me to maintain. I've also added several new blog posts from the past few months that we were long overdue.
If you're interested in learning more about how I've rebuilt the site, check out the updated colophon for details.
I'm really proud of the site's new look, and I'd love to hear your feedback!
[ No. 669 ]