Archives
As I turn 39, it's becoming increasingly difficult to ignore the big round number that's coming up next fall. But for now, I'll just focus on enjoying my first birthday as a new father.
For Michael's first Halloween, Joan and I came up with a Charlie Brown costume for him. We wanted to dress him in something recognizable yet comfortable for a seven-month-old. His costume consisted of a yellow onesie, black pants, and brown shoes, and I cut out a black zigzag pattern out of adhesive felt for the trademark Charlie Brown shirt. We also bought a new Snoopy stuffed animal to accompany him!
I opted to work from home in the afternoon, and our families met up at Chesterbrook Academy to get Michael dressed for the day care's Halloween parade, which consisted of a brief outdoor lap around the playground. Michael joined his group, "Infant 1," in one of two large strollers built for four children each, and he seemed to be quite content compared to most of his classmates. Here he is with his trusty sidekick, just after the parade ended: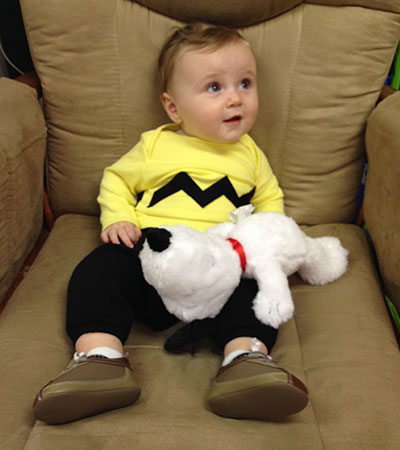 After the brief procession on an unseasonably warm afternoon, we all came back to our house for an informal dinner, some thoughtful birthday presents for me, and a delicious chocolate birthday cake. It was definitely a birthday like none other!
[ No. 653 ]
I don't usually write about Penn State football games that I've merely watched on TV, but I'm making an exception for my alma mater's extraordinary game against Michigan this year.
First, let's revisit the last time Penn State played Michigan, back in 2010. In an exciting night game on Halloween weekend, the Nittany Lions won, 41–31, and I'm still grateful to have attended that game in person. It was their third straight victory over the Wolverines, which was a welcome trend after the misery of losing to Michigan nine times in a row between 1997 and 2007. And since Michigan would fall off PSU's schedule in 2011 and 2012, I also enjoyed the fact that Penn State's winning streak would remain intact during the three-year hiatus between the teams.
That last PSU/Michigan game in 2010 took place just over a year before the horrifying Sandusky scandal broke. After the brutal NCAA sanctions were handed down last summer, I expected to see a scholarship-depleted Penn State return to its previous losing ways to Michigan (as well as many other conference foes) when the series resumed in 2013.
Well, things didn't quite turn out that way.
Joan and I brought our son Michael to the Fox and Hound in King of Prussia to meet up with a large group of PSU friends to watch part of the game, and we caught the rest of the game on TV at home. We were excited to see Penn State take a promising 21–10 lead into halftime, but the momentum shifted toward Michigan in the second half and the situation looked pretty bleak.
How bleak? Penn State trailed Michigan, 34–27, with 50 seconds left and no timeouts remaining, and needed to gain 80 yards to just tie the game. Thanks to a phenomenal drive by freshman QB Christian Hackenberg, the Lions did just that — with 23 seconds to spare! Allen Robinson's leaping catch that set up the tying touchdown was simply amazing.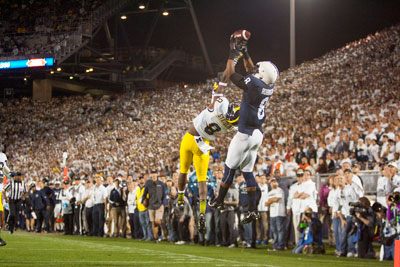 Michigan still managed to attempt a long field goal before regulation but missed. The teams battled through four overtimes, and the Wolverines had two more chances to win the game with a field goal, but one was blocked and they simply missed another one! Thanks to some gutsy play-calling by coach Bill O'Brien in the fourth overtime, Penn State answered Michigan's field goal with a touchdown and finally won, 43–40, sending Beaver Stadium into a frenzy.
I wish I could have seen such a memorable win in person. I'm not sure what was more unlikely — PSU completing an 80-yard drive that knotted the score with less than a minute to go, or Michigan squandering three chances to win the game with a walk-off field goal. Either way, it's exactly the kind of close contest that Michigan usually finds a way to win against PSU (e.g., an overtime loss in 2002 and a last-second defeat in 2005) and many other opponents. So I'll indulge in a little schadenfreude and admit that it's very satisfying to see the Wolverines get a taste of their own medicine for once.
Penn State's quadruple-overtime win over Michigan now stands as the longest game in both PSU and Big Ten history. I have a feeling that we'll be talking about this one for years to come.
[ No. 652 ]
Image credit: Michael R. Sisak
Less than seven months after seeing Fountains of Wayne with my friend John at World Cafe Live in Wilmington, I was pleased to learn that the band was planning to return to the Philly area for another show. But this time around, they also brought along two terrific opening acts, Evan Dando (of the Lemonheads) and Soul Asylum, and all three would perform at a brand-new venue, The Ardmore Music Hall (the former site of a popular Main Line bar called Brownie's 23 East).
My friend Paul joined me for this show, and we began our Sunday evening with a delicious dinner at Primavera Pizza Kitchen, a stylish Italian restaurant that's housed in a massive former bank building. From there, we walked just two blocks to the new venue, which we both liked immediately. It's an intimate setting for live music with a decent amount of seating, a great drink menu, and even good table service.
We grabbed a high-top table at the back of the seating area and enjoyed all three acts. Evan Dando played a rather subdued set accompanied only by his electric guitar, and some of his deadpan lyrics really cracked us up. Soul Asylum was a pleasant surprise — I only have a copy of Grave Dancers Union from my college days, and that album never really grabbed me. But they joyfully ripped through a raucous set, and I definitely have to revisit some of their music.
Fountains of Wayne put on yet another energetic show, drawing heavily from their latest album, Sky Full of Holes, along with plenty of old favorites.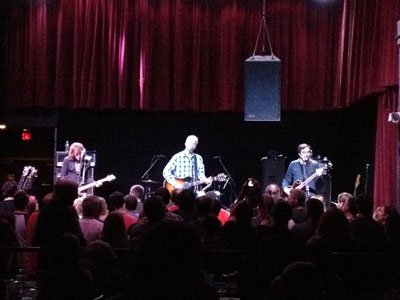 Prior to their performance, I noticed that the merchandise table had some terrific shirts in a good variety of sizes (which happens pretty rarely), so I splurged and bought two of them!
I'm always amused by the improvised one-liners from the band, too. At this show, a fan near the stage raised his hand and made a devil horns gesture during the somber ballad, "Hackensack." In response, lead singer Chris Collingwood quipped, "I think that's the first time ever that someone threw the horns at that song."
Such a great band, and one that doesn't take themselves too seriously.
[ No. 651 ]