Archives
Our son Michael was born one year ago today. And what a year it has been.
From the very beginning, my wife Joan and I have been overjoyed to have such a beautiful little boy, but the first several weeks of parenthood were pretty overwhelming. We were concerned about his minor case of jaundice (which thankfully cleared up soon after we arrived home from the hospital), exhausted from sleeping for only a few hours at a time, and most of all, anxious about the awesome responsibility of taking care of a brand-new person. I remember using our iPhones to cast a dim light over Michael while he slept in his bassinet, just to make sure that he was still breathing!
When Joan returned to work in early June, Michael started attending day care at Chesterbrook Academy, a wonderful school conveniently located about a half-mile from our house. We were probably more emotional about the transition than he was — Michael seemed to adjust to his new surroundings surprisingly well.
Thankfully, Michael stayed quite healthy as an newborn, but we quickly learned how much flexibility and support we really needed when he did get sick. From a persistent stomach bug in mid-June (and a corresponding weeklong absence from day care) to a frighteningly sudden fever of 103.5°F after his four-month vaccination shots in August, our families were a huge help during those times. Also, my new manager at Comcast was extremely patient and understanding — the ability to work from home or take an unplanned vacation day on short notice is a genuine privilege, and one that I'll always be grateful for.
Parenthood has been challenging for both of us, but we've had a lot of fun with Michael over the past year, too. He made his first trip to Stone Harbor last Memorial Day weekend, and was baptized in mid-August at the same church where Joan and I were married. Later last year, Michael donned his first Halloween costume and celebrated his first Christmas at several gatherings with his extended family.
* * * * *
Joan and I celebrated Michael's first birthday at our house with about 15 relatives. We ordered a large sandwich tray from Our Deli & Meats in Paoli and an adorable barnyard-themed cake from Clay's Creative Corner Bakery in Berwyn. I felt badly for Joan — she was eagerly looking forward to the birthday celebration, but was severely under the weather on the day of the party. Everyone pitched in to help get everything set up and enjoyed watching Michael open his presents and dive into his first slice of birthday cake.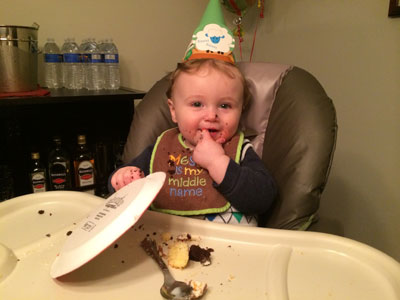 I often tell Michael how lucky we are to have such a healthy and handsome little boy, and I can only imagine what his second year will bring.
[ No. 661 ]
When I was in my mid-20s, I started my first full-time job as a Web developer at a design agency called Medical Broadcasting Company. I was immediately attracted to its location in a stylish office facing Rittenhouse Square (on the second floor above the present-day Parc), and its dress code consisted of one guideline (no flip-flops, a rule which a few people flouted anyway). Best of all, the company was comprised of about 150 talented, creative people who worked in an exciting new field.
I worked at MBC for a little over two years, and I'm so glad that I took the risk of leaving Vanguard — a genuinely terrific, stable company — to pursue my interest in Web design. In fact, my work at MBC inspired me to practice my new skills by creating this very website in my spare time in early 2001. My job ended abruptly in August 2002 due to a layoff (and that's a story for another day), but I'm still very grateful for the skills that I gained at MBC.
I've stayed in touch with many of my former colleagues through Facebook, and have caught up with a few of them in person over the years. But aside from a poignant gathering in 2008 to honor a colleague who had unexpectedly passed away, I hadn't seen most of the MBC crowd in person since I left the company nearly 12 years ago. Thanks to that Facebook connection, two former employees, Patty and Michelle, took the initiative to organize a reunion, and I was very pleased to be invited.
The event was held on a Friday night after work at the Stratus Lounge, a rooftop bar above the Hotel Monaco in Old City. Many in attendance had worked at MBC or its subsequent incarnation, Digitas Health, long after I had left. But I was pleasantly surprised to see many old friends, some of whom even complimented me on my son's photos on Facebook!
I really enjoyed hearing what everyone has been up to, and genuinely hope that we can get everyone together again soon.
[ No. 660 ]
Somehow, Joan and I managed to pull off last year's installment of our annual St. Patrick's Day party. We had scheduled it on Mar. 2, four weeks prior to Joan's due date, which turned out to be the exact day of our son's arrival! But we openly wondered if we could continue the tradition after becoming new parents.
Thanks to some advance planning and plenty of help from our families, our eighth annual Irish-themed party was another success. Many of our friends were excited to finally meet Michael, who made a cameo appearance early in the evening. My parents proudly held him and introduced him to guests during the first 1½ hours or so, then took him back to their house for a good night's sleep.
Much like last year, the crowd size was very manageable (about 30 or so), and we were really happy to catch up with so many good friends. And as always, I installed green bulbs in the light fixture above our front balcony, but this time around, a pair of new CFL bulbs looked better than ever.
Our St. Patrick's Day tradition just keeps on going — already looking forward to next March for party No. 9!
[ No. 659 ]