Archives
Nine months after our first trip to Key West, Joan and I returned to the island town for the wedding of her friends Camilo and Tiffany.
We took an early Thursday morning flight through Orlando, and it was the first time either of us had ever flown in business class. Based on the comfortable, spacious seats and premium snacks, it also won't be our last. After landing in Key West, we took a cab to the La Mer Hotel, part of the Southernmost Hotel Collection, where we checked into a historic yet well-appointed room. Exhausted from the long trip, we opted to schedule a couple's massage at the hotel that very afternoon, which was heavenly. We took a long early-evening nap, then shared a late outdoor dinner at the Old Town Mexican Cafe on nearby Duval Street.
On Friday, we enjoyed our first free continental breakfast of the weekend on the covered beachfront deck of Dewey House next door. Then we took a long walk to Fort Zachary Taylor, a fort that dates to the Civil War. Along the way, we observed all of the trailers set up for an international speedboat competition that happened to be in town that weekend.
After getting dressed back at the hotel, then we hopped a cab over to St. Mary Star of the Sea for Camilo and Tiffany's afternoon wedding — on 11/11/11, naturally. The ceremony was lovely, but with the side doors opened wide, the Mass was somewhat marred by the frequent roar of motorcycles and crowing of wild roosters! We then boarded a chartered Conch Tour Train toward the reception, but had to take a lengthy route due to the Veterans Day parade in town that afternoon. We enjoyed drinks, dinner, and dancing in a rooftop room at the La Concha hotel, which offered breathtaking views of the beach and town: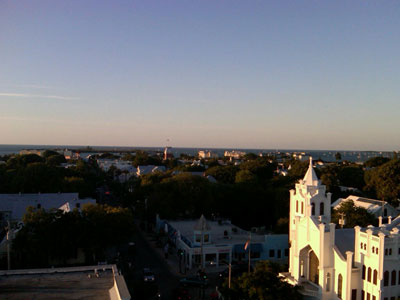 Our action-packed Friday was followed by a more subdued Saturday, in which we spent most of the day laying out on a deck by the ocean and by one of the hotel's pools. That afternoon, Penn State played its first game without coach Joe Paterno (more on that whole nightmare later, I promise). From the pool bar, we caught parts of the game, which ended in a narrow 17–14 defeat to Big Ten newcomer Nebraska. By nightfall, we enjoyed a delicious dinner at the hotel's open-air Southernmost Beach Cafe.
After our final outdoor breakfast at Dewey House on Sunday morning, we took a lengthy trek through Tampa and Atlanta (this time in coach, unfortunately) before arriving home on Sunday night.
It's hard to complain about two Key West trips in one year!
[ No. 615 ]
Met up with some old college buddies for the bachelor party of our friend Brian, who is set to marry his fiancée, Michelle, in December in Hawaii.
Steve drove out from Pittsburgh to my place, where we enjoyed a Saturday lunch at nearby Winberie's, then made the 90-minute trip to Harrah's in Atlantic City. The ride was mercifully uneventful, despite the appearance of the dreaded CHECK ENGINE SOON light that had appeared on my car's dashboard that morning.
After checking in, we gathered at the hotel bar to enjoy some drinks and watch college football. Penn State had a bye week on this particular Saturday, so we tuned into some other games until we became distracted by the breaking news about former PSU defensive coach Jerry Sandusky and athletic director Tim Curley (more on that story later).
Before dinner, we decided to try our hand at some slot machines. Five of us contributed $20 each on a penny slot based on the movie The Hangover, and we won the largest possible jackpot on our very first run through the various phases of the game!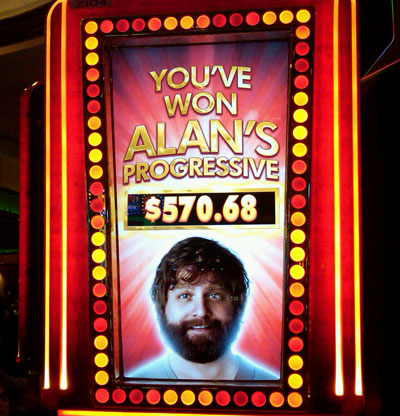 Our winnings came to over $100 each, and I must say, there's something special about receiving a crisp picture of Benjamin Franklin.
We feasted on gigantic slabs of beef at Old Homestead Steakhouse in the nearby Borgata, then spent the rest of the night enjoying bottle service and people-watching at a private cabana at The Pool, a stylish club under a huge glass dome at Harrah's.
Marc, his friend Matt, and I returned to the Hangover slot machine for some late-night gambling (which was aided by the convenient end of Daylight Savings Time that night!), and we managed to win an additional $20 or so each. The group reconvened the next morning for brunch at the hotel, and we returned home thankful for a fun and relaxing night out in Atlantic City.
[ No. 614 ]