Archives
Joan and my friend Paul joined me in going to see Cracker perform at World Cafe Live on a bitterly cold Saturday night in Philadelphia. The show was in support of Berkeley to Bakersfield, the band's 2014 double album that contains one rock and one country disc each.
After a quirky set by frontman David Lowery's other band, Camper Van Beethoven, Cracker put on a terrific show. In fact, they sounded as good (if not better) as the first time I saw them perform at the Trocadero in 2002.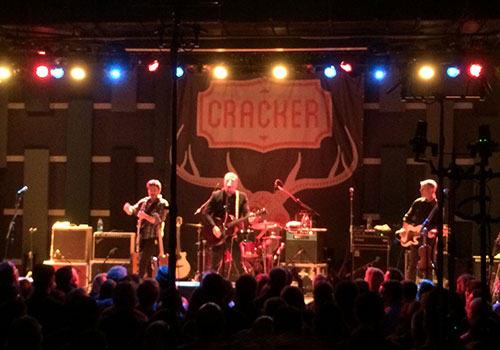 The setlist contained one of my all-time favorites (the hilarious "Mr. Wrong"), eight tracks from their latest release (including the haunting "Almond Grove"), and a blistering jam-band encore:
Torches and Pitchforks*
Dr. Bernice
Hey Bret (You Know What Time It Is)
Almond Grove*
Where Have Those Days Gone*
California Country Boy*
King of Bakersfield*
Low
Teen Angst (What the World Needs Now)
Mr. Wrong
El Comandante*
El Cerrito*
Gimme One More Chance
Beautiful*
Sweet Thistle Pie
St. Cajetan
Encore:
One Fine Day
* New track from Berkeley to Bakersfield
After the show, I even had a chance to meet the band members and get a limited-edition poster signed by them!
More details about the concert are available in an online review by XPN.
[ No. 678 ]
In mid-December, I noticed that the SERVICE ENGINE SOON light had appeared on the dashboard of my 2005 Nissan Altima. After I dropped it off at the dealership for service, they informed me that the car's catalytic converter would need to be replaced before its next inspection was due in April, and the repair would cost over $1,100.
Initially, I just wanted to get the Altima fixed and deal with the decision about a new car in the spring, but thankfully, Joan and my parents all persuaded me into declining the costly repair. So, during my week off after Christmas, I did some research and test-drove a few cars before selecting a blue 2015 Honda Accord EX-L with a gray interior!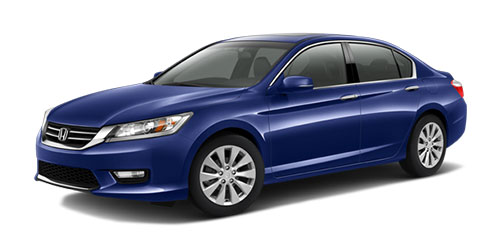 Instead of purchasing the Accord, I opted for a three-year lease in order to prevent taking on additional debt prior to buying a new house (hopefully later this year). And the trade-in for my Altima meant that I could start the lease with no down payment!
My gray Altima was a great car. I still remember the night I bought the Altima in early 2005, and its final odometer reading of 110,788 miles included dozens of trips to the Jersey shore, several ski trips to the Poconos, and even my first date with Joan! I dealt with only one significant mechanical problem in 2007 and only one accident, a frightening collision with a deer, in 2011. The Altima was a reliable, trusty companion for nearly 10 years, and I was a little sad to leave it behind.
However, I also have to admit that it's pretty great to drive a new car for the first time in almost a decade.
[ No. 677 ]
Image credit: Honda