Archives
To celebrate Joan's birthday, we spent a wonderful day out in Philadelphia!
In the late morning, we dropped off Michael at my parents' house for the day — he always loves spending time with his "Papa" and "Mama." After parking downtown, we walked to Tria, a cozy place on 18th Street, for a light lunch and some wine.
We then made our way over to the Mütter Museum, which contains a unique collection of medical oddities, and a place that Joan and I had been meaning to visit for years. The exhibits were both fascinating and frightening — the carefully preserved organs and skeletons are a reminder of how amazingly well the human body usually functions. And I was impressed by a display about minimally invasive surgery that made frequent mention of Dr. Parviz Kambin, who happens to be a close friend of my parents!
After we left the museum, we did some shopping at Macy's (formerly Wanamaker's) and a few other stores along Walnut Street. At the end of our fun day in Center City, we enjoyed a delicious dinner at Devon Seafood Grill on Rittenhouse Square before heading back to West Chester to pick up Michael and call it a night.
[ No. 674 ]
My sister Jen knows me all too well. A few days ago, she passed along a terrific A.V. Club article, "1-2-3-4-5-6-7-8-9-10-11-12 Reasons Why 'Pinball Number Count' Is Awesome," which describes one of my favorite animated features from Sesame Street:
Introduced in 1977, everything about Sesame Street's "Pinball Number Count" screams the '70s, from the strutting music — composed by Walt Kraemer, arranged by Ed Bogas (Ralph Bakshi's go-to guy, and a member of the fantastic psych band The United States Of America) — to the groovy vocals from The Pointer Sisters, to the crazy pop art style. As the pinball bounces around from ornate bumper lamp to bumper lamp, it may as well be running through a 1977-era living room. Warm, instant nostalgia.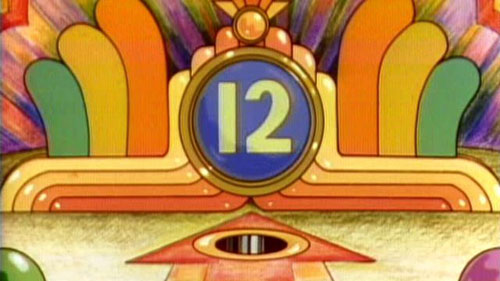 To this day, the "Pinball Number Count" series still fascinates me. I love the vivid colors and whimsical geometric forms, and the themed sequences that resemble a Rube Goldberg machine are really imaginative. The funky chorus is incredibly catchy, too — sing it with me: "One, two, three, four, five / Six, seven, eight, nine, ten / Eleven, twelve!" That melody still gets stuck in my head, and the instrumental bridges that alternate between saxophone, electric guitar, and steel drum are fantastic.
Check out the entire "Pinball Number Count" series on YouTube, as well as lots of interesting details on Muppet Wikia.
[ No. 673 ]
Image credit: A.V. Club / Sesame Street
The latest issue of Philadelphia magazine includes a terrific article called "The Right to Remain Silent" by Richard Rys. It's an analysis of SEPTA's QuietRide initiative, which bans cell phone calls and loud conversations in the first car of each train. Like me, Rys is attracted to the possibility of a brief respite from the noise pollution that surrounds us:
It's that we're all searching for a place […] where we can, for a few fleeting seconds, hear little more than our own thoughts. This isn't a nanny-state infringement of liberty; we simply yearn to catch some shut-eye to the soothing hum of the tracks or read the damn paper or judge other people's Facebook posts without interruption.
Rys correctly notes that the QuietRide program has fallen short of its goals, mostly because of SEPTA's inconsistent supervision:
The fundamental problem with the QuietRide car is that we, the people, are required to police it, and let's be honest — without enforced rules and consequences for breaking them, we're all a bunch of animals.
The QuietRide car is indeed largely self-governed, which leads to awkward situations. Some newcomers may be honestly unaware of the policy, which is understandable. But the majority of the offenders know they're in the QuietRide car, yet selfishly answer their phones or chat with their companions anyway. And no matter how politely you tell them, "Excuse me, this is the QuietRide car," they usually glare at you as if you're the one who's being rude.
Full disclosure: I'm far from perfect, and I've broken the rules myself, too! On two occasions, after failing to realize that the music on my iPod was audible through my earbuds, someone asked me to lower the volume. I apologized immediately and turned it down — what could I possibly gain from pushing back on a reasonable request like that?
These days, I still opt for the QuietRide car on my daily 7:52 a.m. commute into Philadelphia, since most people are fairly quiet in the mornings, and it's a tranquil way to start the day. But I usually opt to sit elsewhere during the more crowded and energetic 4:21 p.m. ride home — ironically because no one around me is arguing about how to behave in the QuietRide car.
[ No. 672 ]
I'm very grateful to Joan for organizing a really fun weekend to celebrate my 40th birthday!
On Saturday afternoon, my college friends Steve, Larry, and Marc arrived from out of town. They met me for lunch at the Fox and Hound in King of Prussia, where we watched Penn State lose to Maryland, 20–19. It was the fourth straight defeat for the Lions, and the unsportsmanlike behavior by the Terrapins was a disgrace — more on that later.
Later on, Larry helped me pick up some cold beer that I'd reserved at Kunda Beverage, then we helped Joan set up the coolers for the party at Devon Lanes. We started out with plenty of delicious catered food in a reserved party room, and Michael made a brief appearance along with my parents before they took him back to their house for the night.
I was very happy to see so many good friends at the party — nearly 40 people joined us for the celebration! Everyone split into groups among several lanes for some friendly competition, and I must say that I looked pretty sharp in the personalized bowling shirt that Joan had ordered just for the occasion.
After two or three games, we thanked everyone for coming, and Steve, Larry, and Marc closed out the evening at our house for some late-night drinks before heading back to their hotels. And thankfully, Daylight Saving Time ended overnight, so we were all relieved to gain an extra hour of sleep.
Our group met up on Sunday morning for breakfast at Nudy's in nearby Paoli. Unfortunately, Larry was having some car trouble, so we made a trip to a local auto parts store to pick up a new battery, and Marc and Steve saved the day by successfully installing it back at my house before everyone hit the road.
I couldn't have asked for a more enjoyable 40th birthday party, and I'm very fortunate to have such loyal and generous friends.
[ No. 671 ]