Archives
After dropping off Michael with Joan's family for the weekend, Joan and I drove to State College for our annual get-together with old friends at Penn State.
We arrived in town by mid-afternoon on Friday, and started our weekend by browsing through old yearbooks at the Hintz Family Alumni Center on campus. At around 6 p.m., Joan and I met up with Marc, Sarah, Steve, and Crystal at Simmons Hall to watch the homecoming parade, thanks to a complimentary event sponsored by the Schreyer Honors College. Later in the evening, we skipped the crowded bars and opted to hang out at Marc and Sarah's rented RV in a tailgate lot near Beaver Stadium.
Our group reconvened on Saturday morning at Irving's on College Avenue for some breakfast sandwiches and coffee, dropped off some things at the RV, and headed into the stadium for the game. As Joan and I slowly roasted under the blazing sun, we were surprised to watch Northwestern shake off its early-season woes and thoroughly embarrass Penn State, 29–6. It was the worst home loss for the Lions since a season-opening blowout against Miami in 2001, and I witnessed that debacle in person, too.
Despite the miserable game, we still enjoyed a leisurely tailgate back at the RV. Here's the whole gang: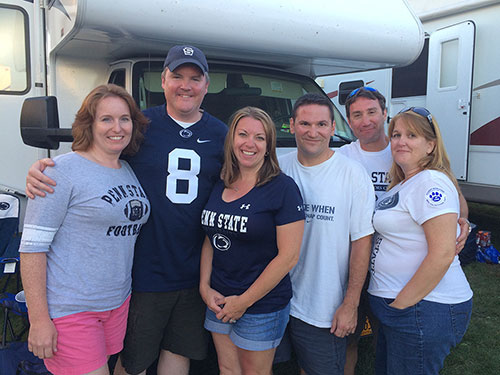 As the evening approached, the six of us rode a Campus Loop bus into downtown State College for our traditional dinner at the Tavern. We were seated at a table by the front window, and my friends Kristen, Suzanne, and Amy also stopped by for a few minutes to say hello.
On Sunday, we met up for a hearty breakfast at Denny's and shopped downtown before happily reuniting with Michael in Slatington on our way home.
[ No. 668 ]