Archives
Here are some highlights from our latest vacation in Stone Harbor, N.J. — which was our first weeklong trip "down the shore" since 2011, back when Joan and I were still engaged!
We kicked off the week with an early Saturday evening dinner at one of our favorite restaurants, the Lobster House in Cape May. I enjoyed the chance to wear my new lobster Polo shirt that I received for Father's Day, too!
From Monday through Thursday, my parents went back home so that Joan, Michael, and I could spend a few days on our own, and we were blessed with gorgeous weather. Our daily ritual involved going to the beach in the morning, then getting Michael bathed and changed into a comfortable onesie before his lunch and a long afternoon nap.
On Tuesday afternoon, the three of us drove north to Ocean City, where we enjoyed a casual dinner at Kessel's Korner and took Michael on the merry-go-round and Ferris wheel at Gillian's Wonderland Pier on the boardwalk. His excited response to all of the bright lights and sounds: "Ooooh!"
After my parents were back in town, we all went to the Stone Harbor Volunteer Fire Company for an open house on Thursday evening. Michael loved seeing all of the fire trucks, and even received a new fireman helmet!
Toward the end of the week, Joan's close friend Megan stayed with us for two nights. We enjoyed a delicious dinner at SAX at the Reeds, followed by drinks on an outdoor balcony at the Windrift.
Upon our arrival back home in Chesterbrook, our neighbor Don helpfully pointed out a sidewall bubble in one of my Altima's tires. (Thankfully, we had taken Joan's CR-V on vacation instead.) So, we called AAA on Sunday evening to install a donut, then had the tire replaced on Monday. Not much fun after a great vacation, but certainly preferable to a blowout while driving!
[ No. 665 ]
Joan and I had heard from several people that Adventure Aquarium in Camden, N.J., was a great place to take kids — even little ones as young as Michael, who's only 15 months old right now. And they were absolutely right.
We had a terrific time taking Michael to the aquarium on a late Saturday afternoon. Their new Hippo Haven exhibit was exciting — we could see the hippos both on "land" during feeding time and under the water. And Michael was mesmerized by the sight of colorful fish and sharks swimming by. I just love this silhouette of him: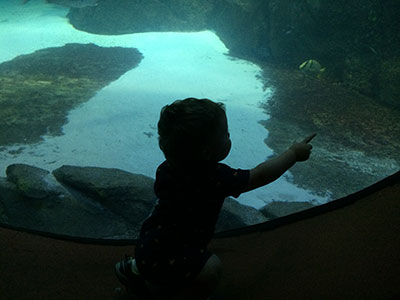 As dinnertime approached, the three of us drove back across the Ben Franklin Bridge into Philadelphia, where we went to Jones, a family-friendly Stephen Starr restaurant, for a comfort-food meal. Since Michael usually expects to eat as soon as we sit down, I took Michael for a walk to nearby Washington Square while our order was prepared. And the food was just as delicious as it was during our previous visit with Joan's friend Maura in March.
[ No. 664 ]