Archives
I've only attended one technology conference over the past several years, so I was really looking forward to attending RallyON 2014, an agile conference sponsored by the software company Rally, in Washington, D.C.
On Sunday afternoon, I said goodbye to Joan and Michael, then drove to 30th Street Station to catch an Amtrak train to D.C. The ride was comfortable, but several delays that added up to 90 minutes turned the door-to-door trip into a five-hour journey. After a short Metro ride from Union Station, I walked a few blocks to the Grand Hyatt hotel and checked into my room.
RallyON was very well-organized. We were provided with a useful mobile app that allowed me to build a personalized schedule of sessions, exchange my contact information with other attendees, and even post my feedback at the closing retrospective. The sessions were very informative, too — I particularly enjoyed a keynote address by Dan Heath (co-author of Decisive: How to Make Better Choices in Life and Work) and a practical session on limiting a development team's work in progress (an evergreen challenge in my line of work).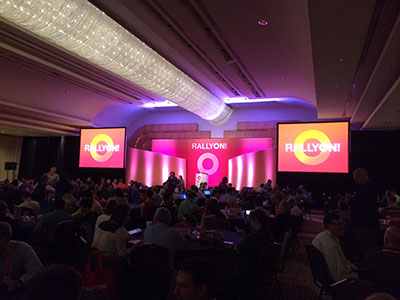 The most unique aspect of the RallyON was a format called Open Space. Attendees could post topic proposals in the RallyON app for others to vote on, and the most popular ones would be scheduled on during two afternoons. I went out on a limb and posted the topic of realistic capacity planning, and surprisingly, I received the second-most number of votes out of dozens of proposals! I stayed up late in my hotel room on Monday night building slides and preparing notes for the discussion, and my presentation on Tuesday afternoon to about 20 people went very well.
During my visit, I also met up with my friends Larry and John for dinner at Capitol City Brewing Company across the street from the hotel. And by Wednesday night, I was very happy to arrive home — I had really missed Joan and Michael while I was away. But I'm also thinking of attending RallyON next year — lots of great information and people!
[ No. 663 ]