Archives
On the morning of Jan. 22, in the middle of a relentless winter*, Joan was driving home from an overnight on-call shift at Lankenau Hospital. While she was stopped at a red light on a snow-covered Lancaster Avenue, a white van approaching in the opposite direction ran the red light, clipped the back of a police car, and crashed into her Nissan Rogue head-on.
Right after Joan told me what had happened, I called my parents, who came over to our house. My mom babysat Michael while my dad and I drove out to Bryn Mawr Hospital, where Joan had been checked out for injuries at the ER. Thankfully, she was OK aside from some aches and pains, but she was understandably shaken up and her Rogue was severely damaged.
Over the following month, we dealt with insurance claims and rental vehicles (including a GMC Yukon XL, an SUV that's roughly the size of a school bus, which I drove to the train station for a few days). Surprisingly, despite a repair estimate of over $10,000, her SUV was not declared totaled and required several weeks of body work. In the meantime, the lease on the Rogue was almost up, so we needed to find her a new vehicle once the Rogue was repaired.
After comparing a few small SUVs, we decided on a blue 2014 Honda CR-V, which offered excellent safety reviews, gas mileage, and cargo space, all at an affordable price. Joan and I signed up for a new lease through Scott Honda in West Chester, and we eventually turned in the Rogue after its repairs were finally complete.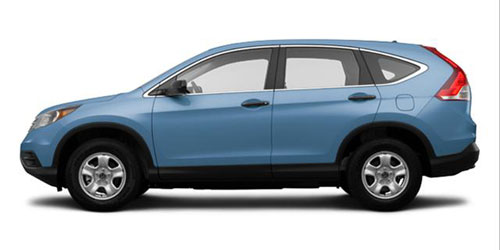 It was a frightening ordeal, but I'm deeply grateful that Joan walked away without any serious injuries, and we're both relieved that she has a safe new vehicle to drive.
* Note: The official snowfall total for Philadelphia reached 67.6 inches during the winter of 2013–14, second only to 2009–10 and more than triple the seasonal average of 21.5 inches.
[ No. 658 ]
Photo credit: Kelley Blue Book