Archives
Just over a week after Laura and Jeremy's wedding in New York, we drove up to Joan's dad's house in Slatington, Pa., for a large celebration with family and friends.
The big bash included dozens of relatives and friends, plenty of great food and drinks, and Joan's mom even ordered a custom cake in the shape of Manhattan City Hall! Naturally, our son attempted to steal the show by dressing up in a formalwear onesie for the happy occasion: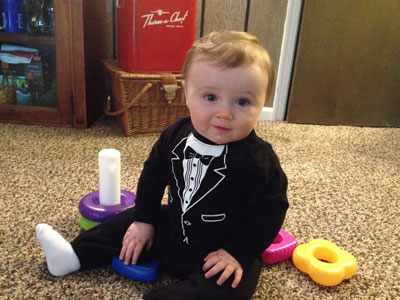 We're so happy for Laura and Jeremy, and we're very grateful to be able to celebrate with them.
[ No. 656 ]
Joan and I took the day off for a very special occasion — the wedding of her sister Laura and her fiancé Jeremy in New York City!
Having dropped off Michael at my parents' house the night before, we took an early SEPTA Regional Rail train (my usual commute to work) from Devon to 30th Street Station, had a light breakfast at Au Bon Pain, then boarded an Amtrak train to Penn Station in New York. Our cab ride to Manhattan was unexpectedly long due to traffic and construction, and we became increasingly worried about arriving late.
Fortunately, we arrived at the Louis J. Lefkowitz State Office Building with a little time to spare and met up with the group of about 30 relatives and friends. Despite many other couples who were also scheduled to be married that day, we only waited a few minutes before Laura and Jeremy's number was called, and the process was surprisingly well organized.
When the time came, our group entered a spacious reserved room. The ceremony was simple and brief but very touching, and we all cheered for the happy couple!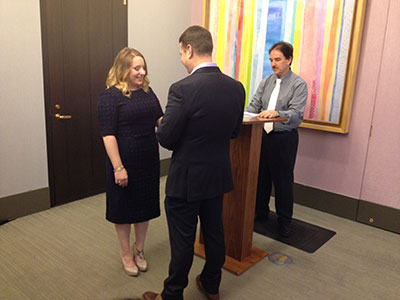 After taking some photos, we had some extra time before the reception, so we all boarded a large, comfortable shuttle bus and rode around the city for about an hour, celebrating with lots of conversation and a few drinks.
The reception at Tribeca Grill (co-owned by Robert De Niro!) was a relaxed, mid-afternoon luncheon, complete with wonderful food and several heartfelt toasts. Joan and I left a little early to take a cab ride back to Penn Station for the train ride home. Since my parents were watching Michael until the following morning, we treated ourselves to some burgers and shakes at the new Shake Shack location across from the King of Prussia Mall before heading home.
Congratulations, Laura and Jeremy!
[ No. 654 ]