Archives
Some recent observations:
With just a few weeks to go before our son's baptism on Aug. 11, Joan and I urgently needed to get the invitations printed and mailed to our family and a few close friends. A custom online order would have taken too long, so I bought lovely printable invitations from Paper Source, but struggled with multiple printers to get the text printed correctly. Thankfully, last week, a FedEx Office store near my office came through with perfect color printing in just a few hours.
I registered my home phone on the Do Not Call registry years ago, and yet we still receive at least one or missed calls on any given weekday. And when the caller ID literally reads

SPAM

, I'm almost grateful for the telemarketer's honesty. Almost.
I'm still savoring the good news that my monthly SEPTA trailpass is actually less expensive than before, thanks to some recent zone changes among numerous train stations in the Philly suburbs. Specifically, my regular station, Devon, was reassigned from Zone 4 (previously $176 each month) to Zone 3 (now $163). Hey, I'll take it!
[ No. 646 ]
What better way to celebrate a long Fourth of July weekend than with our family in Stone Harbor (once again)?
Joan, Michael, and I packed our bags and left home very late Wednesday night for the four-day weekend. We enjoyed a relaxing Fourth of July together with a cookout at home, then watched the distant fireworks over Wildwood from the convenient location of our front deck.
After an early feeding on Friday morning, we went to Polly's Place on Third Avenue for breakfast with a beautiful view of the bay, and Michael behaved wonderfully as usual! While in town, we bought a new Sport-Brella at one of our favorite stores, Seashore Ace. We tried it out for Michael's first full-fledged day on the beach later that day, and thankfully, it was very sturdy and provided plenty of shade for our little guy: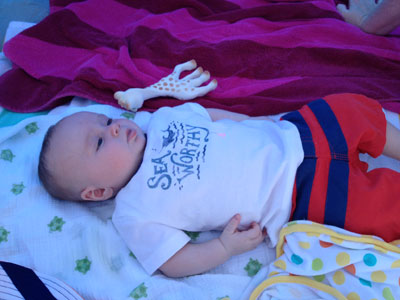 Later that evening, the three of us visited our friends Laurie, Mike, their son Shane, Melanie, Greg, and their daughter Maddie for a casual outdoor dinner at their rented house on 38th Street in Avalon. We followed that up on Saturday night by introducing Michael to dinner at Marabella's along with my parents and sisters. (How quickly we've become a party of seven!)
Our weekend was slightly marred by a difficult ride home. Due to heavy traffic, we opted to take some back roads toward Route 322, where I was pulled over by an unsympathetic cop and given a ticket for failing to use my turn signal (!) in a confusing stretch of road. Later in the trip, we had to stop for a while in a Wawa parking lot for a feeding and diaper change. The entire journey home took 4 hours, 20 minutes, and all of us were pretty worn out by the time we arrived home.
Still, we really enjoyed having a few days off at the beach, and I think Michael is starting to become a big fan of Stone Harbor already!
[ No. 645 ]