Archives
A few weeks after Michael's first trip to Stone Harbor for Memorial Day, we returned to the Jersey shore for my very first Father's Day!
My parents and sisters joined me and Joan in taking Michael out to his first meal at a restaurant on Saturday night. I'll admit that I was concerned about how he would handle it, but Michael enjoyed a peaceful nap during most of our delicious meal at Ristorante Luciano on Third Avenue.
On Sunday morning, Joan surprised me with Michael's newest summer outfit, comprised of a Hawaiian shirt, bucket hat, and an adorable blue onesie that read, HANDSOME LIKE DADDY: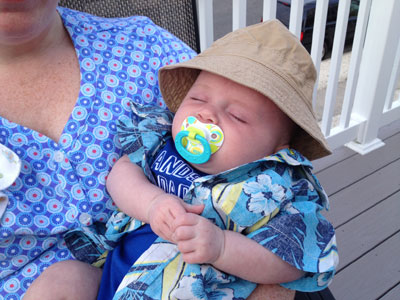 Our family enjoyed a relaxing brunch, and I received several thoughtful gifts for my first Father's Day, including a sharp-looking navy Polo shirt. Joan and I also took Michael for his first walk on the beach, and even dipped his toes into the chilly ocean at the water's edge.
For many years, my family has always enjoyed honoring my dad on Father's Day at the shore, and I'm so grateful to count myself as a father now, too!
[ No. 644 ]