Archives
Three weeks after our son Michael was born, my parents generously offered to come over to our house to babysit him so we could go out to enjoy a relaxing dinner together.
When my parents arrived at our place, Joan and I gave them a brief tour of where everything was located — formula, diapers, wipes, you name it — then drove to The Capital Grille in nearby King of Prussia. We thoroughly enjoyed delicious meals and superb service, but naturally, most of our conversation revolved around our newborn son.
As we finished our main course, Joan wondered aloud, "I wonder how Michael is doing right now." I scrolled through my iPhone to find one of our favorite recent photos of him, then held it up for Joan and spoke for our son: "I'm doing OK, Mommy, but do you have to order coffee and dessert, too?"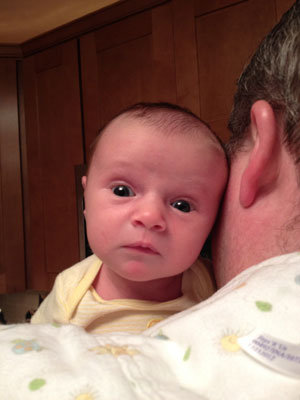 My one-liner succeeded in making Joan laugh, but I think it also broke her heart a little bit, too.
When we arrived home, my parents were still sitting in the exact same locations in our living room, and they hadn't even changed the channel on the TV! But they had clearly enjoyed their time with Michael and took wonderful care of him. And we were certainly glad to be home again with our wonderful little boy as well.
[ No. 641 ]