Archives
I've kept a running list of ideas for various projects around the house since I bought my place nearly nine years ago. And from the very start, the most obvious one has been a renovation of my kitchen.
Nearly every object and surface in the kitchen was original to the building's construction in 1985, and that fact was becoming pretty obvious. Amazingly, all but one of my appliances were still running after 28 years of service (except for the microwave, which I replaced a few years back), but I wouldn't be surprised if one or more of them suddenly failed to work. The oak-colored cabinets and laminate countertops were showing their age, the linoleum floor had begun to chip away at an accelerating pace, and the ceiling fan/light fixture looked quite dated as well.
Last fall, Joan and I predicted that we wouldn't want to deal with a huge, disruptive kitchen project after our first child arrived the following spring. We also knew that we'd probably move or sell the condo in the future, and prospective buyers tend to look for a modern, stylish kitchen above practically everything else. So, while we felt a bit overwhelmed by the mere thought of overhauling the entire kitchen, this was the right time to get it done.
As a result, we spent lots of time over the last few months evaluating our options, and eventually decided to hire a local contracting firm, Janusky Group LLC, to run the project. Our primary contact, Matt Janusky, came across as very polite, professional, and organized — he personally recommended a quality cabinet maker and came prepared with samples of tile, flooring, and hardware for us to compare. In order to simplify the effort, we also worked with Matt to retain the roughly the same layout of cabinets, appliances, and plumbing as before.
Joan and I worked hard to clear out all of our kitchen's contents — far more items than I would have previously believed — before the renovation officially began on Jan. 16. Matt's team included his dad, who founded the company decades earlier and mentioned that he'd framed some of the first houses in Chesterbrook over 30 years ago! The initial demolition (a rather frightening word to use) was predictably noisy and messy; despite plenty of plastic sheeting surrounding the kitchen, a fine layer of dust quickly covered most of the surfaces throughout the house. The cabinets were removed, the flooring (including a problematic, uneven subfloor underneath the linoleum) was ripped out, and the old appliances made their exit as well.
Over the course of a few weeks, the new kitchen began to take shape, starting with a plywood subfloor and synthetic Armstrong tile, which is much warmer than ceramic. Before long, the new honey-colored maple cabinets, stainless-steel appliances, and dark-green granite countertops were installed, followed by under-cabinet lights, rope lighting behind the crown molding above the cabinets, and a new light fixture that Joan had picked out.
The process was admittedly disruptive. Joan and I ate our cereal each morning with paper bowls and plastic spoons, and being forced to dine out every night sounds like fun, but the routine became surprisingly old after just a week or two. Also, since we decided to have Matt and his team also paint the nursery (previously my home office), I needed to haul the boxes of kitchen stuff out of that staging area and into the living room. At the peak of the remodeling activity, our living room began to closely resemble the seemingly infinite clutter of stacked boxes and narrow pathways that you'd see on an episode of Hoarders.
But mercifully, the project stayed quite close to the original budget, and only went a few days past the agreed completion date due to issues no one could have predicted before the project started. And after just six weeks, the transformation of our kitchen is truly amazing. Here's the room before the project: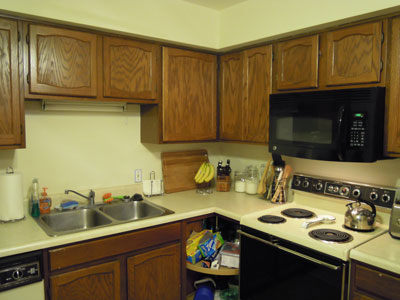 And here's the finished product, Kitchen 2.0: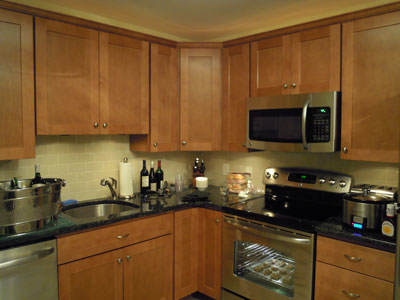 Hats off to Matt Janusky and his team on their terrific work!
[ No. 638 ]
For Christmas over the last few years, Joan and I have started a tradition of presenting my parents with a fun, shared experience rather than a physical gift — after all, how many sweaters do people really need?
This year, we invited them to first join us for breakfast at Sabrina's Cafe, one of our favorite places near Joan's old apartment in the Art Museum area of Philadelphia. We were disappointed to find that the wait for a table, even on a bitterly cold Sunday morning, was far too long for us to linger outside. So we hopped into a cab and headed north to Rembrandt's, the site of our first date in 2009, for a tasty brunch.
Having enjoyed a hearty meal to start the day, we took my mom and dad to the Barnes Foundation, which had just opened last year. The four of us enjoyed a leisurely stroll through room after room of eccentric arrangements of priceless art among various metal hinges and keys on the walls (much in the same way they'd been displayed at the collection's original home in Merion). We kept marveling at the fact that one man, Albert C. Barnes, had collected hundreds of these artifacts over the years, and we'll definitely make plans to return soon.
[ No. 637 ]