Archives
Each fall for at least the last decade or so, I've looked forward to meeting up with some good friends from my college major — Marc, Steve, and Brian — for a weekend get-together to watch a Penn State football game at Beaver Stadium and relive some cherished memories in downtown State College.
But this year, I had mixed feelings about our pilgrimage to Penn State. In the previous 12 months, our alma mater had gone through terrible, seismic changes — the horrific Jerry Sandusky scandal ruined the reputation of our once-proud university, the seemingly immortal Joe Paterno died from lung cancer, and the NCAA hammered Penn State with crippling sanctions from the cover-up of Sandusky's abuse. All of these events were simply unfathomable as of September 2011, although perhaps our largely unpleasant weekend last year was an omen of dark days ahead.
This year, Joan and I arrived at the the Quality Inn in State College late Friday night and opted for a good night's sleep over bar-hopping in advance of the action-packed day to follow. On Saturday morning, we grabbed a quick breakfast at the hotel, then joined forces with a separate group of my PSU alumni pals from the Philly area and proceeded in a caravan up to the tailgating fields north of Beaver Stadium. Our combined tailgate, comprised of two large tents and enough food to feed dozens, was fun and relaxing as always — I'm so glad to have such great friends from PSU.
Given the shaky start to Penn State's 2013 season, which included losses to Ohio and Virginia, I wasn't terribly optimistic about their matchup against Temple, a team that is always hungry to finally upset Penn State after over 70 years of frustration. But we were pleased to watch the Nittany Lions play reasonably well in a 24–13 win over the Owls.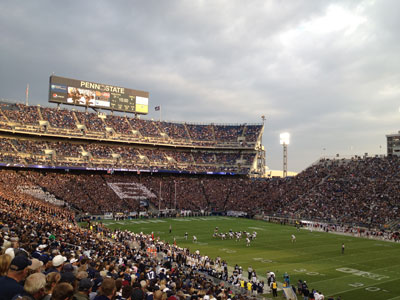 Given everything the football program has gone through, the gameday atmosphere seemed surprisingly normal and upbeat. But I did notice one exception — the previous site of the Joe Paterno statue, which had been taken down last July, had been reduced to a humble grassy area with makeshift memorials to the fallen coach. It's still surreal to me that Paterno is longer with us, and while I still admire all of his contributions to our alma mater, I wish he could have left this world without such self-inflicted turmoil and shame.
After the game, we returned to the Tavern for our annual post-game meal, although given Joan's ordeal following last year's dinner, she wisely avoided the seafood options on the menu. Most of our core group of friends went back to the hotel, but Joan and I stuck around to meet up with the Philly-area group for some late drinks at the Tavern bar, the Adam's Apple.
Sunday morning found us walking across Atherton Street from the hotel to the Waffle Shop, where we enjoyed a hearty breakfast before some shopping downtown and a three-hour drive back home. It was great to see our old friends again, and despite the worst previous year imagimable, we were relieved to see our beloved campus on the mend.
[ No. 634 ]
I'm always excited when Bob Mould comes to town for a live performance. But when I heard that his latest tour would celebrate the 20th anniversary of my all-time favorite album, Sugar's Copper Blue, by playing that record in its entirety, I jumped at the chance to buy tickets.
The show was held at a handsome, relatively new venue called Union Transfer on Spring Garden Street, and Joan and I watched the show from seats on low risers in the balcony. True to form, the show began with a blistering, rapid-fire performance of all 10 tracks from Copper Blue, followed by many familiar favorites along with several songs from his latest album, the impressive, Sugar-esque Silver Age.
However, the show was incredibly loud, more so than any concert in recent memory, and I felt bad that the performance wasn't nearly as pleasant for Joan. Given the thundering din and the increasingly late hour on a weeknight, we opted to leave at the end of the regular set and before the encore. But I still enjoyed the rare opportunity to witness my favorite album played live front-to-back, and the new songs were equally powerful.
[ No. 633 ]
Last fall, Joan and I attended a charity event through her workplace that included a silent auction. While there, we placed the winning (and surprisingly, only) bid on a truly special experience — a gourmet dinner, an overnight stay, and breakfast at the historic Union League in Philadelphia. I had attended a few professional functions in the stately Civil War–era building over the years, but we were particularly excited at the rare opporunity to dine at its acclaimed restaurant, which is typically reserved strictly for Union League members!
After watching Penn State miss four field goals during a miserable 17–16 loss to Virginia on TV, Joan and I drove into the city on a rainy late Saturday afternoon. We checked into our third-floor room in The Inn at the League, then began to explore inside the huge building, where a lavish wedding reception was already underway.
We got spruced up, then arrived for our reservation at 1862, the exclusive restaurant featuring chef Martin Hamann. Our meals were truly delicious — I opted for a diver sea scallop, filet/short rib duet, and dark chocolate soufflet, while Joan thoroughly enjoyed an impressive five-course tasting. We noticed one curiously old-school detail — my copy of the menu displayed the prices, while Joan's did not! After dinner, we went on a late-night walk to Rittenhouse Square and along Sansom Street, then enjoyed a comfortable night's sleep.
On Sunday morning, Joan and I dined at a breakfast buffet along with many of the wedding guests who had attended the previous night's reception. We then wandered through various rooms and hallways to appreciate its architecture and artwork. A friendly security guard at the front desk, Curtis, informed us that one massive portrait of George Washington alone was valued at $150–$200 million! And naturally, I carefully observed the gorgeous timepieces throughout the building. In fact, I counted seven enormous, antique grandfather clocks in all, including an elaborate one by the front entrance made by Tiffany & Co. in 1888: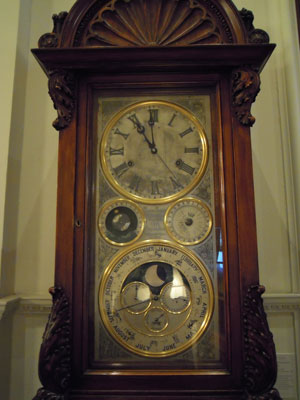 Joan and I then checked out of our room, took some photos in front of the building, and returned home thankful for such a rare and memorable experience in Center City.
[ No. 632 ]