Archives
Having attended two Penn State victories against Temple and Michigan earlier this fall, Joan and I looked forward to joining some of my old college friends for a third Nittany Lions game against Indiana. But here's the strange twist: the game was held at FedEx Field, where the Washington Redskins play! (The Hoosiers had agreed to move their home game against PSU for a $3 million payout. Pretty bizarre, I know.)
After work on Friday, Joan and I grabbed a quick dinner at a Zoup restaurant near the Delaware border, then made our way to the nation's capital, where we checked into the Westin Washington, D.C. City Center and met up with my friends Larry and Joe for a few drinks at the International Bar in the nearby Washington Plaza Hotel.
We took advantage of the incredibly convenient Metro on Saturday morning, riding from McPherson Square to Morgan Boulevard on the Blue Line. While the rest of the group — Steve, Brian, Marc, and Marc's brother-in-law Jim — unfortunately ran into logistical and traffic problems, Joan and I met up with some of her old friends at a huge pre-game tailgate, complete with a DJ!
Once the group assembled, we watched the game from a comfortable suite with free food but surprisingly expensive drinks (even a 20-ounce bottle of Coke went for $5). The atmosphere at FedEx Field was pretty surreal; technically, it was an Indiana home game, complete with IU graphics on the stadium video screen and partisan announcements ("First down, Hoo-siers!"), but at least 75% of the crowd was decked out in Penn State white. The PSU majority even took over an on-screen "We Are IU" promotion with exactly what you'd expect to hear.
As for the game, the Lions struggled early and played to a troubling 24–24 tie in the third quarter against the last-place Hoosiers, who hadn't won a Big Ten game all year. But a blocked punt for a TD sparked a late rally of 17 unanswered points for the Lions en route to a 41–24 win — the third straight PSU victory with Joan by my side!
We rode the Metro back to McPherson Square, where we took a short walk by the White House, then enjoyed a much-needed nap at the hotel. Later, we met up with the group for a tasty dinner at 3 Bar & Grill in Clarendon, and called it a night relatively early. The following day, we checked out of the Westin, drove up to Damascus, Md., to spend the afternoon with Joan's friends Rachel and Steve, and even stopped by Total Wine in Delaware for some pre-holiday purchases before finally returning home.
[ No. 592 ]
So, what else has been going on recently?
The GOP has been crowing over its numerous victories on Election Day. As a recent Slate article suggests, we're entering a rather troubling "era of seesaw politics" in which impatient voters punish incumbents every two years. However, myopic tirades against either party ultimately hurts us all. And some problems, like the worst recession in 80 years, might just take longer than two years to completely solve.
On the home front, after 12 years of living with increasingly pathetic pine furniture from IKEA, I finally have a grown-up bedroom set. Our large early-September order from Bassett arrived last weekend, and it's wonderful to have a really comfortable king mattress and plenty of drawer space.
I have a new favorite random photo, courtesy of the reliably hilarious blog Every Day Should Be Saturday:
Excellent choice, assuming they're out of New England clam chowder.
[ No. 591 ]
Congratulations to one of my all-time heroes, Joe Paterno, on his 400th career victory at Penn State!
JoePa's landmark win was a dramatic one, too. The Nittany Lions came out flat in their home game against Northwestern, who took a commanding 21–0 lead late in the second quarter. But under the impressive direction of redshirt sophomore QB Matt McGloin, PSU responded with a 91-yard touchdown drive in the final minute of the first half, then scored four more unanswered touchdowns to capture a stunning 35–21 win.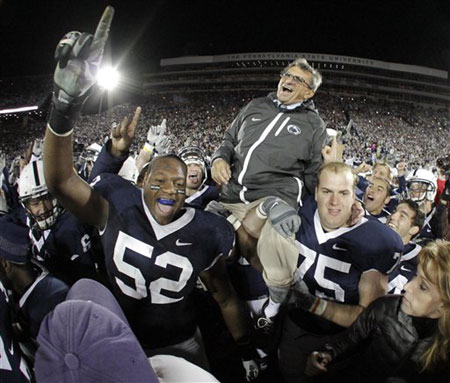 The Lions' victory tied the 1994 record for the largest come-from-behind win in Joe Paterno's 45-year tenure career, and it couldn't have happened on a more appropriate occasion. Three cheers to Joe for yet another milestone in his legendary career!
[ No. 590 ]
Photo credit: Gene J. Puskar, AP / Black Shoe Diaries