Archives
On the weekend of my 36th birthday, Joan invited me to join her and her dad's side of the family for a weekend trip to State College, including a PSU night game against Michigan. It was simply too good an opportunity to pass up!
After we both finished work on Friday, we enjoyed a light dinner at a nearby Panera, then embarked on the 2½-hour drive to her dad's mountain house near Laporte, Pa.
The following morning, we rose early and made the 1½-hour trip to our alma mater, where we met up with her dad at the Nittany Lion Inn for a delicious brunch sponsored by the College of Education. After parking our cars in a tailgate lot near the new PSU baseball stadium, our group made the long walk downtown for some shopping and a mid-afternoon pitcher of beer at the Rathskeller. We then rode a jam-packed Campus Loop bus back toward the stadium, and spent the late afternoon and early evening enjoying a terrific tailgate, complete with bratwurst sandwiches and venison chili.
We made our way into Beaver Stadium for the Nittany Lions' 8 p.m. showdown with Michigan, the team I've detested above all others for many years. To my delight, PSU held the Wolverines to a three-and-out on their first possession, then proceeded to drive right down the field for an early touchdown. The Lions jumped out to a 28–10 lead at halftime, but I'll admit that I grew very nervous when Michigan's dangerous offense cut PSU's lead to 38–31 in the fourth quarter. Fortunately, Penn State managed to stave off Michigan's late rally and held on for a thoroughly satisfying 41–31 win under the lights.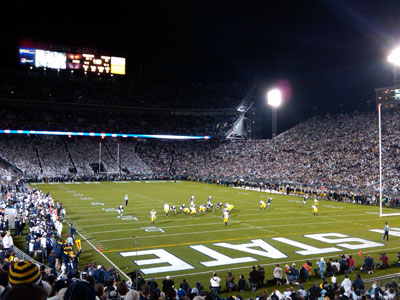 To put this victory in perspective, I've been tormented by several miserable losses to Michigan over the years, starting with a 1993 defeat in Penn State's 1,000th game during my sophomore year. After a thrilling "Snow Bowl" win in 1995 (my last home game as a student), I've watched the Lions lose to Michigan in every way imaginable — they were blown out in 1997, shut out in 2001, and defeated on a last-second touchdown during our 2005 road trip to Ann Arbor. So, after witnessing four PSU losses to Michigan in five games, it was wonderful to see a long-overdue triumph over the Wolverines.
And for the record, two groups of obnoxious, maize-clad fans near us refused to sit down to let some PSU fans (including one fan's young kid) see the action on the field. It took well over 10 minutes of polite but firm urgings from an usher to get each group to comply. This certainly wasn't the first time I've witnessed belligerent Michigan fans in Beaver Stadium, and I must admit that I enjoyed watching them leave the stadium in defeat.
Due to predictably clogged dirt roads in the tailgate lots, we stayed put in our parked car until about 1 a.m., before making our weary return to the mountain house at 3 a.m.
The following morning, we packed our bags and made the trip back to the Philly suburbs, stopping at a Perkins along the way for brunch. And on Halloween night, we met up with my family for an excellent dinner. I couldn't have asked for a better birthday weekend!
[ No. 589 ]
To celebrate the one-year anniversary of our first date on Oct. 22, 2009, Joan and I spent a wonderful Saturday evening in Center City!
After driving into Philadelphia through scenic back roads on an unusually warm late afternoon, we began the festivities with drinks at the bar of XIX, a stately restaurant on the 19th floor of the historic Bellevue Hotel. We then walked a few blocks over to Tequilas, a fine Mexican restaurant, for an early dinner of empanadas, grouper, and seafood enchiladas. Delicious!
We made our way toward Broad Street to the Kimmel Center, a venue that neither of us had ever visited, where we watched a masterful performance by the Philadelphia Orchestra in Verizon Hall. The program consisted of short pieces by Ravel and Bruch before intermission, followed by a longer composition, Mussorgsky's Pictures from an Exhibition. The main melody of the latter composition sounded familiar to both of us, but we agreed that we both thoroughly enjoyed the entire show.
Our evening concluded with a return to Rembrandt's, the site of our first date, where we'd enjoyed dinner at an outdoor table on a similarly warm evening last October. The ownership and menu have changed since then, but fortunately, the restaurant looked practically the same. After some beers and a cheese plate, we left on a somber note, having watched the Phillies' disappointing elimination from the playoffs on TV.
Still, we returned home from the city feeling very happy and grateful for a wonderful first year together!
[ No. 588 ]
In the spirit of my friend Joe's "Clones" series (of which Polamalu/Rowlf is my hands-down favorite), I'd like to submit one of my own.
Full credit goes to my sister Jen, who noticed this uncanny resemblance after the Phillies' narrow loss to the Giants in Game 1 of the 2010 NLCS on Saturday night. And how did I, of all people, completely fail to notice this Simpsons reference myself?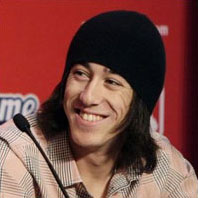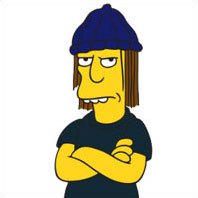 Separated at birth, indeed.
[ No. 587 ]
Image credits: Sports Grind (Lincecum); Wikisimpsons (Jones)
Here's a long-overdue account of the utterly ridiculous dark, rainy evening that Joan and I experienced two weeks ago.
At the end of a busy workday, I boarded the 6:09 p.m. train home from Center City. Just past 30th Street Station, the conductor informed us that a fallen tree on overhead wires had suspended all westbound trains until further notice. He concluded his address over the PA with, "Try to have a nice evening," then slowly guided our train in reverse back into 30th Street.
Joan, who was off from work for the week, graciously offered to pick me up. We opted for Route 30 over the predictably jammed Schuylkill, and somewhere around Ardmore, drove through a small, unmarked trench of rough pavement. When we arrived at my car parked at the Devon station, we discovered that her front passenger-side tire was flat! Thankfully, we were less than a mile from our local Nissan dealership, so she followed me very slowly to drop off her car. Exhausted but thankful to avoid the hassle of a tow truck, we left Joan's key in the night-drop window and finally rode home together.
We enjoyed a postponed but wonderful candlelit dinner, complete with a vase of red roses from Trader Joe's, then retired to bed. But the night wasn't quite over yet. After I jokingly imitated a recent fit of tossing and turning in the middle of the night, the underpinnings of my ancient IKEA pine bed frame snapped! So, well after midnight, we had to disassemble the supports and drop the boxspring and mattress into the remaining frame. (Coincidentally, we ordered a handsome new bedroom set from Bassett in early September, so that upcoming delivery will certainly be a welcome upgrade.)
Hopefully, the comedy of errors from the night of Sept. 30 will be the end of our bad luck for quite some time!
[ No. 586 ]