Archives
Last fall, I was amazed to watch the Phillies capture their first National League pennant in 15 years. But incredibly, they've done it again this season!
Not surprisingly, very few sportswriters gave the Phillies a chance to make it past the first round of the 2009 playoffs. But the Fightin' Phils proved everyone wrong by winning the best-of-five NLDS over the Rockies in four games. And if that wasn't enough, they also took care of the Dodgers in the best-of-seven NLCS by the same 4–1 margin as last year.
Looking back on the series against the Dodgers, I must take note of the Phillies' dramatic 5–4 win in Game 4. With the Phillies down to their last out in the bottom of the ninth and trailing by one run with two men on base, Jimmy Rollins came through with an stunning walk-off double to win the game! Even a few days later, the video footage of J-Roll's game-winning hit gives me chills.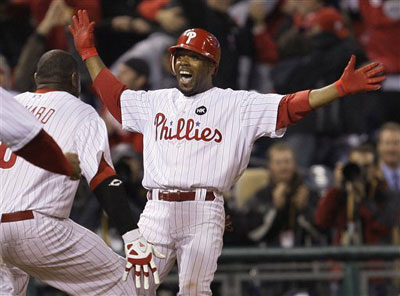 With their second straight postseason triumph over the Dodgers, the Phillies have captured their first back-to-back pennants in franchise history and are headed to their seventh appearance in the Fall Classic. They'll face the winner of the Yankees/Angels matchup in the American League, and once again find themselves just four wins away from another World Series championship.
Unbelievable!
[ No. 549 ]
After another long hiatus, here's the 11th installment of my strangely popular series of rants (kindly refer to the archives for previous episodes):
Stop it.
Stop digging up busy roads if you're only going to resurface a two-foot-wide strip of pavement after you're done. The crew that recently destroyed South Gulph Road in King of Prussia, I'm looking in your direction.
Stop using Comic Sans in a professional environment. Unless your audience consists of third-graders, setting your e-mails or PowerPoint slides in such a childish typeface will make you look like an amateur.
Stop idling your car in parking lots. It's bad enough for the environment that we need to drive everywhere, but it's even worse to run your engine for 10 minutes while you dig through your purse or babble on your cell phone.
Stop clicking "Reply to All" when you've been mistakenly copied on a group e-mail. Take 30 seconds to scroll down to the original message, identify the original sender, and inform that one person of the error. The rest of us really don't need dozens of one-line messages that read, "Please remove me too."
You heard me. Just stop.
[ No. 548 ]
Sights and sounds from another fun weekend in State College, this time with the PSU alumni gang from the Philly area:
Hitting the road at 11:15

a.m.

on a Friday is totally the way to start a pilgrimage to Happy Valley. After a traffic-free drive, I checked into our room at the So-So Ocho by mid-afternoon and picked up some great stuff downtown, including a new PSU jacket and a striking, black-and-white print of the Nittany Lion Shrine that I've wanted to buy for years.
Take a full stomach (resulting from a trifecta of prime rib at the Tavern, inexpensive beers at the 'Skeller, and grilled stickies at the Diner), a warm hotel room, and a ridiculously small full-size bed, and you can count on getting a completely terrible night's sleep.
An ideal tailgating spot consists of an asphalt parking space and an adjacent field for all the beverages and food (including a hoagie tray from Wegman's, which was a convenient and satisfying substitute for our usual grilled fare).
On a chilly, blustery afternoon, Penn State saved its most embarrassing non-conference game of the season for last, a 52–3 blowout of Eastern Illinois (a Division I-AA team). Coastal Carolina last year, and now this? Please, please, please schedule a few meaningful games against non–Big Ten opponents.
My light post-game meal at the G-Man consisted of a tasty cup of chili and an order of wings with just the right kick, but the service for our table of eight (especially for a football weekend) was agonizingly slow.
[ No. 547 ]