Archives
Last December, I openly criticized the legitimacy of multi-year business plans, which are inherently vulnerable to a wide range of unforeseen events — such as a severe financial crisis, for example.
Thankfully, the economy has improved since last year (more on that later), but the plague of long-term prognostications continues to persist. In fact, just this week, I read a corporate strategic plan that runs through 2015. In a purely pop-culture context, that happens to be exact year in which Marty McFly rode a hoverboard (!) in Back to the Future Part II.
One of my favorite blogs is called Signal vs. Noise, which contains hundreds of articles about design, usability, and best practices. Its authors hail from an influential software company in Chicago called 37signals, and their recent observations echo my sentiments about the folly of long-term planning — most plans are merely guesses, so it's almost always more sensible to embrace uncertainty and simply plan as you go.
I will never predict anything six years from now. You have my word.
[ No. 542 ]
Dear Brett Favre:
You had it all — a very successful career in the NFL, all kinds of quarterback passing records, and a Super Bowl ring. You're a lock for the Pro Football Hall of Fame, without a doubt. But much like Michael Jordan, you've developed a bizarre habit of jerking people around during the twilight of your career:
Keep in mind that all of this drama has played out in less than 18 months.
On the field, you're still a tremendously talented QB. And I'll admit that Jordan didn't significantly tarnish his legacy by team- and sport-hopping late in his career. But that said, Brett, your endless, self-absorbed indecision has caused me to lose a lot respect for you. For the sake of everyone's sanity (especially those poor souls who have to cover your on-again, off-again career on SportsCenter), please make your next retirement permanent, OK?
Sincerely,
Monorail Mike
[ No. 541 ]
We're all familiar with Michael Vick's fall from grace by now. Two years ago, the promising Falcons quarterback pleaded guilty to federal dogfighting conspiracy charges and served 18 months in prison. It was an unthinkable fate for any NFL star. But the Eagles' decision last week to sign him to a one-year contract with an option for a second year was equally shocking.
I can safely say that no one in the Philadelphia area, including the media, saw this coming, but it was huge news — I'm surprised that Facebook didn't crash under the collective weight of everyone's reactions. This past weekend, my family and I couldn't even escape the Vick controversy at the Jersey shore; we noticed that one of the small advertising planes flying over the ocean was towing a banner that read, SHAME ON EAGLES, BOYCOTT THE GAME.
To me, it seems like a strange personnel move. With McNabb under center, the Eagles hardly need another quarterback, and I think the team's management has grossly underestimated the negative reaction from hometown fans, let alone the deafening disapproval they'll receive during road games. I tend to agree with my friends who feel that Vick deserves a second chance at some point in his life, but it's a shame that Philadelphia has to be ground zero for the issue. We have enough sports-related drama in this town to begin with.
Buckle up. This is going to be a very interesting season for the Birds.
[ No. 540 ]
The biggest storyline from the Phillies' 12–5 win over the Cubs last night should have been the debut of pitcher Pedro Martinez in a Philadelphia uniform.
But a bizarre incident made far more headlines instead. With the Phillies leading 12–1 in the bottom of the fifth inning, Cubs first baseman Jake Fox hit a fly ball deep into the outfield. As Phillies center fielder Shane Victorino made the catch, a Cubs fan doused him with a full beer, cup and all.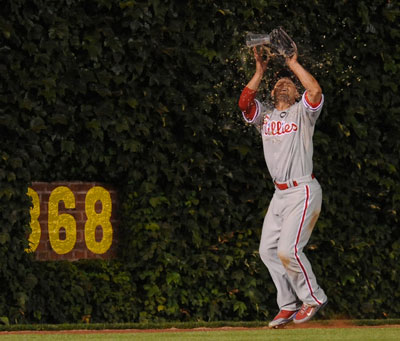 The media loves to bash Philadelphia fans as a bunch of drunken thugs. While some of the blame is certainly deserved, sportswriters continue to make predictable references to fans attacking Santa Claus with snowballs (and neglect to mention that it happened over 40 years ago).
But in this case, I find it interesting that a Philadelphia player was the victim of abuse from an opposing fan. Perhaps this incident with Victorino, along with the vandalism of Donovan McNabb's lawn earlier this year, will help to remind people that boorish fans live in places other than southeastern Pennsylvania.
Speaking of the media's irritating anti-Philly bias, an irreverent Phillies blog called The Fightins provided this highly amusing, sarcastic summary of the incident:
Meanwhile as reported in [the] national media, a Phils fan actually threw the beer, which was filled with acid, and was thrown at a lady pregnant with twins.
Earlier today, the same blog reported that Phillies fans in attendance at the subsequent game at Wrigley Field had a humorous take on the situation:
PHILLIES FANS DRINK THEIR BEERS!
For his part, Victorino filed a report with the Chicago Police Department for simple battery, and Cubs management were quick to sincerely apologize for the fan's stunt.
And this just in! The fan who was responsible for this kerfuffle has been identified as 21-year-old Johnny Macchione, who turned himself in to police tonight. I'll post any updates of significance as this story develops.
[ No. 539 ]
Photo credit: Deadspin
Some brief observations from the last few days:
To the young guy in the Jeep with a huge

NO FAT CHICKS!

decal across his windshield: Stay classy, dude.
Stopped by a nearby Wendy's to try out their new Bold Buffalo boneless wings. They had the requisite kick, but were strangely tangy, too — almost like sweet-and-sour sauce. Not completely surprising, but still disappointing.
Speaking of fast food — I'm not the healthiest eater, but do we seriously need a Angus Third Pounder at McDonald's?
If a temporary Twitter outage makes you feel "like [your] heart was gone" and "empty inside," then you need to reevaluate your life. Right now.
[ No. 538 ]
For the second time this year, I was fortunate to witness a truly special moment at Citizens Bank Park with good friends.
As if Ryan Howard's third-deck grand slam in late May wasn't enough, Phillies pitcher J.A. Happ pitched a complete game in a 7–0 shutout over the Rockies. Happ, a 26-year-old left-hander, gave up only four hits and struck out 10 in a masterful performance.
And after scoring only six total runs in three straight losses, the Phils' bats suddenly came to life. Pedro Feliz, Jimmy Rollins, and Jayson Werth each hit a home run in the Phillies' 60th victory of the year, and I'm reminded once again that this team is incredibly fun to watch.
[ No. 537 ]
During my return from the shore on a stormy Sunday afternoon, I happened to notice a bumper sticker on a nearby vehicle that read:
1/20/13
(The date was prefaced by tiny red text that I couldn't quite make out; a quick Google image search informed me that it read, OBAMA'S LAST DAY.)
I suppose a pessimistic, anti-Obama bumper sticker isn't completely surprising, given the popularity of similar propaganda in advance of Bush's departure this past January. But this trend is rather unsettling; in short, people who find fault with the current administration can only respond by passively waiting around and sulking until the next inauguration. Seriously, there's no reason for hope during the next 1,267 days?
I'd like to remind such inconsolable Americans that, long before the 2012 presidential election, they can still vote for local and state-level candidates, who arguably have more impact on citizens' daily lives than any president could ever hope to have. And personally, while I have some concerns about how much the government is spending in order to revive the economy, I still think it's just a tad early to declare Obama's administration an abject failure.
Man, it's getting ugly out there.
[ No. 536 ]