Archives
Summer has arrived once again, and my friends and I will be spending many of our upcoming weekends at another Avalon shore house — the west half of a duplex on 29th Street, just two blocks south of our place from last year.
The 2008 season (my seventh in Avalon!) got off to a bumpy start. After checking in on Friday afternoon, we found that the house wasn't particularly clean, and both the first-floor bathroom sink and the outdoor shower weren't even connected. Worse, thanks to some sort of plumbing oversight, all of the running water smelled strongly of sulfur (roughly that of rotten eggs). Fortunately, we were able to quickly eliminate the odor by running hot water through every faucet for about an hour, but the sink and shower problems remained unresolved by the time we left on Monday afternoon.
The remainder of our first weekend turned out well, all things considered. We made our first trip to the beach on Sunday, a picture-perfect afternoon with plenty of breezes. Also, our housemate Kobe brought along his Wii game system, which provided hours of entertainment for the group. Also, on Sunday night, I enjoyed meeting up with my coworkers Tara and Rob and some of their friends for beers and games of pool at the Anchorage Tavern in nearby Somers Point.
So, we have a few home-improvement issues that need to be worked out, but I'm still looking forward to another fun-filled summer at the Jersey shore.
[ No. 439 ]
Last weekend, the Flyers were eliminated by the Penguins in the Eastern Conference Finals. Even in defeat, the Flyers finished among the top four teams in the NHL this year — an impressive feat, considering that just last year, the Flyers were the worst team in the league.
But the Flyers' exit from the playoffs happened to bring Philadelphia sports fans to a grim milestone: 100 sports seasons (25 years × 4 major sports) without a single championship to celebrate. (Technically, Philly sports teams have been eliminated before or during the playoffs a total of 98 times. A baseball strike in 1994 and a hockey strike in 2005 prevented every team from winning a title.)
In response, Sports Illustrated carefully listed the 100 worst moments in Philly sports history over the last quarter-century. (If you're particularly masochistic, make sure to read the top 10.) Not to be outdone, the Philadelphia Inquirer marked the occasion by referring to its own city as "Loserville."
This miserable drought, which I first mentioned on this very Web site well over five years ago, seems to be infinite. Will I live to see it come to an end?
[ No. 438 ]
Given that the price of oil has doubled in the last year alone, it's not surprising that people are suffering from severe sticker shock at gas stations across the country. But according to a recent Slate article by Robert Bryce, get this:
At a price of roughly $4 per gallon, gas is still cheap. Really.
On an inflation-adjusted basis, a gallon of gas cost the equivalent of $3.11 back in 1922, compared to $3.79 today — only 22% higher than it was 86 years ago. And if you're upset over gas prices here in the States, you should know that drivers in Europe are paying much more. As of earlier this month, gas was selling for a whopping $8.38 per gallon in the United Kingdom.
To me, it's a matter of simple economics: oil is a finite resource (limited supply) and is critical to sustain numerous industries (high demand). And apparently, we learned nothing from a pair of serious energy crises in 1973 and 1979; the fact that we're still completely dependent on oil three decades later is both absurd and inexcusable.
As I get older, I'm starting to learn that it's pointless to worry about things that you can't control or influence. Most of us need gas for our daily commute to work, so that's a fixed cost, assuming you choose to stay employed at the same job. What remains are two factors that we can control: (1) the amount you drive otherwise, and (2) the fuel efficiency of your vehicle.
With regard to the latter, if you happen to drive an SUV that's the size of a school bus, I have zero sympathy for you. You knew damn well that a brand-new Canyonero would get poor gas mileage, and you went ahead and bought one anyway. But as Bryce's article in Slate mentions, soaring gas prices are finally forcing SUV owners like you to wake up (emphasis is mine):
Over the last two decades, U.S. consumers have been spoiled by low fuel prices. And those lower prices led to a buying binge that put millions of giant SUVs, pickups, and other gas guzzlers on our roads. Today's higher prices are forcing consumers to adapt. […]
On the environmental front, people concerned about greenhouse-gas emissions should be cheering today's oil prices. Expensive motor fuel is the only thing that will lead consumers to use less oil and make the switch to hybrid vehicles, smaller cars, and public transit.
I'll admit that I yearn for the days of cheaper gas. But I've concluded that gas should be expensive, and there's not much that I can do about it. So, I'll stop complaining about sky-high gas prices and save my vitriol for the upcoming presidential election.
[ No. 437 ]
Joined my friends Paul, Bob, and Cathy at the Electric Factory in Philly to see a performance by The Black Keys, a talented blues-rock duo from Akron, Ohio. Guitarist/singer Dan Auerbach and drummer Patrick Carney put on an impressive show, which drew heavily from their latest album, Attack & Release.
From our seats in the balcony, we could hardly believe that just two people could create such a dense wall of sound. (The pair reminded me of Bob Mould's former trio, Sugar, whose lean guitar-bass-drums lineup was brutally efficient.) Auerbach often sounded like he was playing three guitars at once, and Carney relentlessly punished his drum kit, looking and sounding like a slightly more disciplined version of Animal from The Muppet Show.
A giant inflatable tire (a nod to the rubber industry in Akron), emblazoned with a take-off of the Goodyear logo, served as a fitting backdrop to the howling din: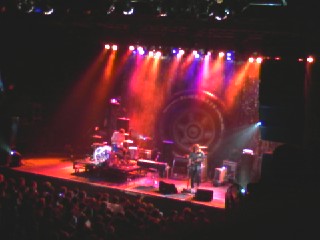 There's something to be said for a no-frills concert — no video screens, no lasers, just rock. I've gotta see these guys again soon.
[ No. 436 ]
Two weeks after a fun-filled weekend in Pittsburgh for my friend Tony's bachelor party, it's time for the main event: Tony and his fiancée Mandy's wedding.
Friday. Took the day off and drove out to Graves' Mountain Lodge, located in rural Syria, Va., about 100 miles southwest of Washington, D.C. The drive took much longer than I had expected, but the rainy weather gradually subsided during the 235-mile trip.
Arrived at around 4:30 p.m. and checked into a room I had reserved with my friend Larry at the resort's Ridgecrest Motel on the hillside high above the lodge. Here's the amazing view from the second-floor balcony in front of our room: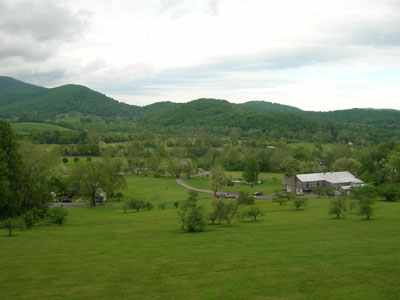 At the lodge, we went through an informal rehearsal of the following day's ceremony, then attended a wonderful buffet dinner hosted by Tony's parents. During the meal, Mandy's brother-in-law Jamey presented a hilarious digital slideshow of pictures, which featured a great soundtrack and the title "Manthony" (the hybrid of Mandy + Anthony). Later in the evening, Larry and I met up with old and new friends for some drinks and plenty of laughs at their ancient rented farmhouse — the appropriately named Peon Palace.
Saturday. Skipped breakfast at the lodge and met up with the Peon Palace crowd by late morning. Picked up some food at the local Syria Mercantile Company general store, had a casual lunch at the farmhouse, then returned to the motel room to get ready for the wedding.
We gathered outdoors at an idyllic spot next to a rushing stream, and the weather brightened just in time for the ceremony. I was deeply honored to be selected as one of three readers during the service; my particular reading was the famous passage from the first book of Corinthians (the one that reminds us that "Love is patient, love is kind").
Here's a shot of the happy couple on a narrow bridge over the stream, shortly after the lovely ceremony had concluded: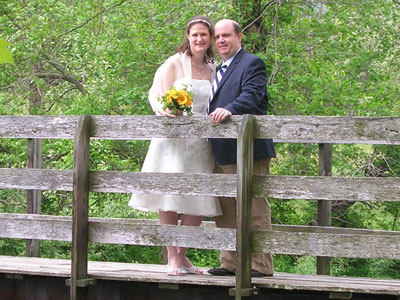 About 160 guests attended the reception in a large pavilion, which was decorated with long strings of white Christmas lights hung from the rafters. We feasted on a delicious dinner of fried chicken, country ham, and plenty of side dishes. Many guests played bocce into the early evening, then huddled around an open fire pit as night fell. After the reception came to a close, we retreated to the Peon Palace for another campfire (great work, John!), complete with drinks, cigars, s'mores, and countless old stories.
Sunday. I joined the best man, Brandon, for breakfast at the lodge, then Larry and I checked out of the room and made our separate ways home. The drive back was much more manageable, and I returned home in plenty of time to meet my family for a Mother's Day dinner at McKenzie Brew House in Malvern.
Best wishes for many years of happiness, Tony and Mandy!
[ No. 435 ]
Self-awareness is an incredibly rare commodity these days.
Not surprisingly, I witness plenty of oblivious behavior on the road. At least once a week, I find myself stuck behind someone driving very slowly in the far left lane of a busy highway. I usually wait for a minute or two, then reluctantly pass the slowpoke on the right. And that's when I notice that the person is invariably engrossed in a conversation on his or her cell phone.
You have two choices here: hang up and hit the gas to keep up with traffic, or move to the right and keep chatting away. The choice is yours.
On a related note, I now know why our cafeteria lines are growing longer by the day. Yesterday, an older female employee decided to pay for her $6.35 lunch with three one-dollar bills, four quarters, 10 dimes, and — wait for it — a metric ton of nickels.
To be fair, she eventually glanced up at the blank stares from me and the cashier and sheepishly muttered, "Sorry" — but then resumed the painstaking process of digging through her coin collection. The woman behind her in line even offered her a dollar bill to help move things along, but she politely refused.
Most of the time, I'm not really in that much of a rush. But folks, there are other people in this world other than you. Please plan accordingly.
[ No. 434 ]