Archives
My friends Todd and Jeff, my sister Meg, and I attended a Smashing Pumpkins show at the Tower Theater last week. The rare acoustic set that opened the performance was a pleasant surprise, and the electric portion of the show packed a punch, even if it dragged on a bit too long. But as Meg pointed out, it was amusing to see a band named after pumpkins just before Halloween.
A week or two before the concert, I had bought a copy of the Pumpkins' 1995 double album, Mellon Collie and the Infinite Sadness. It was one of those albums that I'd always meant to pick up, and it contains some impressive songs among its sprawling two-hour running time. Among the highlights of Mellon Collie's second disc is a swirling ballad, "Thirty-Three," which just happens to be exactly how old I am today. One specific lyric from the song jumped out at me:
"Tomorrow's just an excuse away."
There are many creative and conflicting interpretations of the song's true meaning. But to me, that particular lyric is a useful warning against procrastination, a vice that I can hardly afford in my rapidly advancing age.
Also, without getting into specifics, I've been dealing with quite a bit of disappointment and angst over the past several weeks, so I'm really hoping that life at 33 is a significant improvement.*
---
* Update: My friend Steve writes:
I love that lyric by the Pumpkins as well. Last year one of my faves was by the Clarks in the song "Highwire":
"My soul wouldn't give another year /
I'm almost thirty-two"
Or back in my 20s, Gin Blossoms' "29":
"Twenty-nine, you'd think I'd know better /
Living like a kid"
Hope 33 is a great year for us though!
I remember "29" very clearly when Gin Blossoms' New Miserable Experience came out during my early college days. It was my friend Suzanne's favorite song at the time, and I recall thinking how much older the age of 29 sounded.
Anyway, my first day as a 33-year-old turned out to be an encouraging start to a new year after all. Before noon, the majority of my short-term anxiety at work subsided, thanks to a major announcement in our department. Shortly thereafter, five of my coworkers generously treated me to an enjoyable lunch at Champps, where I took the opportunity to enjoy a bottle of Rolling Rock ("33" — get it?) along with my meal.
That evening, I drove along a deserted Schuylkill Expressway (a traffic-free I-76 could be the best birthday present ever!) and joined a large group of friends at a fun-filled happy hour at the Great American Pub in Conshohocken. Many thanks to my friend Laura for organizing a great evening!
[ No. 385 ]
The negative press for Philadelphia continued this week, but at least this time around, the bad news is already common knowledge.
Sports Illustrated recently posted an online photo gallery titled, "Top 10 Cities in a Sports Slump." I hate to admit it, but given that I've spent three-quarters of my life in a professional sports title drought, I know that SI is completely correct in ranking Philadelphia No. 1 among the top 10 Slumpvilles:
No four-professional-team city has gone as long as Philly without winning a title. There hasn't been a championship parade on Broad Street since Moses Malone led the Sixers to the 1982–83 title. The Eagles came close in 2004, but fell to the Patriots in the Super Bowl. The Phillies reached the postseason this year for the first time since 1993. And the Flyers have been consistent regular-season performers who instantly melt down in the playoffs. Local hero Smarty Jones almost won the Triple Crown, but like the pro teams, couldn't seal the deal, finishing second in the Belmont Stakes after winning the Kentucky Derby and Preakness.
Source: Sports Illustrated, "Top 10 Cities in a Sports Slump" (October 2007)
For the record, the Triple Crown near-miss is a huge stretch. Even if Smarty Jones had won all three races, no reasonable sports fan could call that a true Philly championship. I mean, really — it's a horse.
Anyway, I e-mailed this story to a number of my friends, joking that Philly is finally No. 1 in something sports-related. The responses varied greatly, including a statement of total agreement, a terse expression of annoyed indifference, and a dubious conspiracy theory that New York–based media outlets take advantage of every opportunity to "point and laugh at Philadelphia" and its teams.
Everyone is entitled to their opinion, and I admire those who remain optimistic in spite of such perennial disappointment. But it's hard to argue that any other city's fans have suffered more than us, and we are seriously overdue for some sports-related joy in Philadelphia.
(After last season's historic debacle, the Flyers have improbably started this year in first place. Sure, it's very early, but who knows?)
[ No. 384 ]
Earlier today, my friends Steve, Jeff, and Laura e-mailed me separately about a Yahoo! article with the following headline:
Looking for attractive people? Don't go to…
If I told you that the ending of that headline was the word Philadelphia, would you be surprised in the least?
Philadelphia is home to the least attractive people in the United States, a survey of visitors and residents showed on Friday.
The city of more than 1.5 million people was also found to be among the least stylish, least active, least friendly and least worldly, according to the "America's Favorite Cities" survey by Travel & Leisure magazine and CNN Headline News.
Source: Reuters, "Looking for attractive people? Don't go to…" (Oct. 22, 2007)
You know, I really resent articles like this. The results came from a random online questionnaire with people's perceptions of various cities, and I'm willing to bet most of the respondents have never even visited Philadelphia.
The people who filled out the survey probably recall that Philadelphia was named America's fattest city by Men's Fitness magazine, but they conveniently forget that the story ran back in January 2000 — nearly eight years ago. In fact, after Philly had topped the list, Houston became a dynasty of obesity, taking over that dubious title in four of the next five years. And as of last year, Philly wasn't even among the 20 fattest cities in the poll. (As they say, never let facts get in the way of a good story.)
Putting all of that aside, Philadelphians still can't compete with the impossibly beautiful residents of Miami and southern California. So, almost by default, the average person in Philly must be ugly, right?
The answer is no, especially if you've ever gone people-watching in Rittenhouse Square. Even the editor of Travel & Leisure started backpedaling about her magazine's survey results, reassuring us that she and her colleagues "believe there are a lot of attractive people in Philadelphia." Gee, thanks for that.
I'm sure I sound defensive by saying this, but I'm fed up with so-called news stories that delight in making fun of Philadelphia. There's a lot to love about this city, and we deserve better.
[ No. 383 ]
Some random observations:
Any coworker who generously brings in cannoli, cream puffs, and other delicious baked goods straight from a South Philly bakery deserves a raise, effective immediately.
On Friday, I hit a new personal record by cashing in $90.06 worth of coins at the local Commerce Bank. I always feel a little guilty for using their free coin-counting machine (the "Penny Arcade") without actually having an account at Commerce, but at the same time, I'm sure as hell not going to fork over a completely ridiculous 8.9% fee to use a Coinstar machine.
Kudos to Joe Torre, former manager of the Yankees, for rejecting a one-year offer that would have cut his base salary by one-third (excluding playoff-related incentives). The guy won four titles and took his team to the playoffs in every one of his 12 years as coach, but the Steinbrenners still treated him like a washed-up failure. Now I really hope the Yankees fall flat on their faces.
[ No. 382 ]
A brief observation from Kildare's in King of Prussia, where some friends and I gathered for a few beers last night:
Any drink special that reduces the price of Coors Light is not very special.
[ No. 381 ]
This has not been a good week in the American school system.
On Wednesday, a violent rampage at a Cleveland high school resulted in a 14-year-old gunman killing himself after shooting and injuring two teachers and two students. The very next day, and uncomfortably close to where I live, another 14-year-old boy was arrested in Plymouth Meeting, Pa., for owning a huge arsenal of weapons and plotting a mass murder at Plymouth Whitemarsh High School. (Shortly thereafter, his mother was also arrested for a completely unthinkable act of parenthood: buying weapons and bomb-making materials for her troubled son.)
Once again, I'm forced to wonder how our nation's schools have become war zones. My fellow blogger Citizen Mom raised some additional questions about the latter incident, and sadly, I have few answers.
Parents and school administrators, like everyone else, want to do everything possible to prevent these terrible acts from happening. The problem is that most school shootings are carried out by kids who feel alienated and ridiculed, and unfortunately, children can be vicious toward their classmates. I certainly don't condone such awful behavior, but all of the well-intentioned anti-bullying programs in the world won't stop kids from tormenting each other.
This might sound a bit harsh, but many of today's kids seem unable to cope with social adversity. They're not the first ones to get taunted by their peers at school, and victims of bullying from previous generations never opened fire on their classmates. Personally, I was picked on by a number of kids when I was in school, and although some days were pretty rough, I had to deal with it. But the act of handling a gun — let alone using one to exact revenge on my foes — never even crossed my young mind.
Have parents stop trying to teach their kids how to stand up to their tormentors? Have teachers failed to seek out and punish bullies at their schools? Do many children simply have more access to deadly weapons, or have the despicable perpetrators of the massacres at Columbine and Virginia Tech become role models for teenage outcasts?
Most importantly, when and how will this insanity ever stop?
[ No. 380 ]
Earlier this week, a troubling rumor began to circulate that Joe Paterno was involved in a road-rage incident, in which he screamed obscenities at another motorist and demanded, "Do you know who I am?"
Sure, JoePa has been known to be fairly cranky at times (and often understandably so), but the story didn't sound terribly plausible. Fortunately, according to a story published in the Pittsburgh Post-Gazette, Joe provided a more innocuous (and ultimately hilarious) version of the near-accident on campus during the weekly Penn State Quarterback Club luncheon yesterday:
It is not clear how the close call occurred. According to the Post-Gazette's report, Paterno told the luncheon he pulled his car over to the curb, got out and approached the other vehicle. He shook his finger at the driver and warned her to, "Watch it."
"Be careful," Paterno said, according to the newspaper's report. "I have your license number, and I will call the police on you."
According to the Post-Gazette's sources, Paterno said a male passenger then walked up and chastised him, saying, "That's my wife you're talking to."
"That's your problem," Paterno reportedly replied.
Source: ESPN.com, "Report: Paterno acknowledges part in traffic incident" (Oct. 11, 2007)
Zing!
In response, the woman threatened to call the police on Joe (for what, exactly?). He told her to go ahead, and she filed a police report later that day. Since then, the investigation has been formally closed with no charges filed.
Earlier tonight on his weekly radio show, Paterno shed more light on the incident, explaining that he had admonished a young driver for running through a stop sign on campus. (That's one of my biggest pet peeves, and I've called a few people on it, too. Wait, does that mean that I'm as old as Joe?)
I'm certainly relieved to hear that this roadside incident was blown way out of proportion, and pales in comparison to the embarrassing off-the-field legal problems facing multiple Penn State players this season.
[ No. 379 ]
Met up with a large group — Steve and Crystal, Marc and Sarah, Brian and his dad, and my old friends Kristen and Amy — for yet another fall weekend pilgrimage to State College.
I took a vacation day on Friday and hit the road by early afternoon to get a head start on the weekend. Shortly after arriving, I headed over to Mad Mex and enjoyed a few drinks at the bar with Steve and Crystal. Once Brian and his dad got into town, we all went over to the Allen Street Grill for a great dinner overlooking College Avenue. After Kristen and Amy arrived in town later in the evening, Marc and I joined them for a few late-night beverages at the Adam's Apple and the Darkhorse.
The following day, thanks to some great planning by everyone involved, we got started on a well-organized tailgate around 11 a.m., complete with burgers, sausages, cheese and crackers, veggies and dip, cookies, you name it. The weather was unseasonably warm with temperatures in the 80s, so the 10-foot blue tent that Steve and Crystal had bought certainly came in handy.
Our tent prevented plenty of sunburn before the game: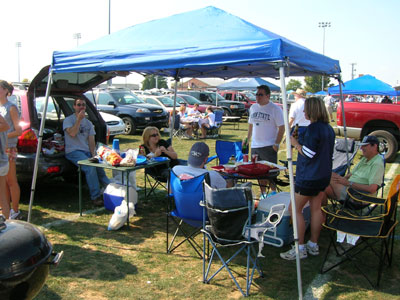 Getting the band back together — me, Brian, Marc, and Steve: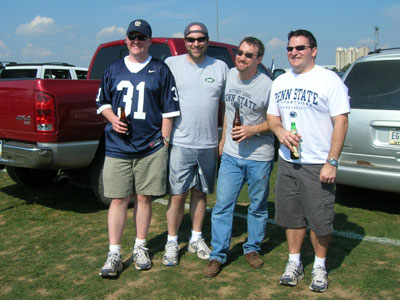 Reuniting with old friends — Kristen, me, and Amy: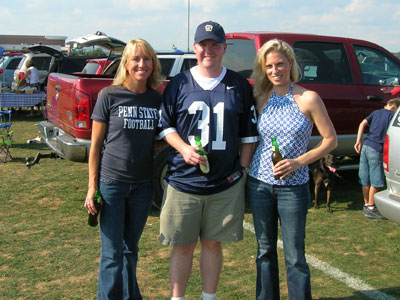 Oh, there was a football game that we attended, too. After back-to-back conference losses on the road to start their Big Ten schedule, Penn State returned to Beaver Stadium to face an equally struggling Iowa squad. And fans from both sides clearly remembered the last meeting between these two teams: a mind-numbing 6–4 Iowa victory in 2004, and probably the worst athletic event I've ever witnessed in person.
As they've done all year, the Nittany Lions took their sweet time getting warmed up, but the offense finally started to find some rhythm before halftime. Iowa showed some signs of life in the fourth quarter and staged a slight scare, but PSU managed to pull away with a 27–7 win over the Hawkeyes and snapped a five-game losing streak to Iowa.
We followed our annual tradition of a post-game dinner at the Tavern, which by now has become my all-time favorite restaurant. After the rest of the gang hit the sack, I joined Kristen and Amy for a few late drinks at the Shandygaff (where we watched the inexplicable elimination of the Phillies from the playoffs), followed by a nightcap at the Rathskeller.
A leisurely breakfast at Perkins on Sunday and a mercifully traffic-free ride home closed out the weekend. Not surprisingly, we're already talking about making plans for next year!
[ No. 378 ]
A few days ago, I received the latest issue of Business 2.0, a magazine primarily focused on technology and business, and one that I've read with interest for a few years now. The glossy magazine was encased in a paper cover, one that you'll often see when your subscription is about to expire. But the stark message on this particular cover was different — the October 2007 edition wasn't just my final issue; it was the final issue of the magazine, period.
A lengthy article from the blog MediaShift describes the demise of Business 2.0 as somewhat expected. The magazine certainly had a healthy readership of about 630,000 (its highest ever), but a steep decline in advertising sales was the primary reason for its ultimate failure.
The entire print industry is clearly hurting; many newspapers and magazines are struggling to stay afloat in this digital age. (Exhibit A: This past spring, Inc. magazine offered to send me 12 issues and two gifts for the desperate price of $4.95, and I gladly signed up.)
However, I also agree with Jeff Jarvis from BuzzMachine, who lamented that Business 2.0 should have taken its own advice and focused its effort on an online community, not a print periodical. In fact, it's quite ironic that a technology-focused magazine became a victim of its own subject matter.
Farewell, B2, and hope to see some of your writers over at Fortune.
[ No. 377 ]