Archives
After weeks of escalating media hype, Apple's iPhone will finally become available to the public today.
Given that I've never bought into the breathless excitement over Apple products (not to mention their arrogant ad campaigns), I must ask: what's the big deal?
Seriously, it's just a cell phone. The iPhone is not a revolutionary product; it's merely a stylish version of an existing one. And sure, it looks beautiful, but is it really worth $499–$599, not to mention several days of waiting in line? I'm pretty sure that if you avoided the crowds and stopped by an Apple store a few days from now, they'd still have plenty of iPhones in stock.
If you're truly willing to spend that much money and time on the purchase of a new cell phone, then I feel sorry for you.
[ No. 352 ]
I took a break from the Avalon scene for the first time this summer and met up with some old college friends in Washington, D.C.
After completing the typically hair-raising drive on I-95 and the Capital Beltway, I met up with my friend Tony in Arlington, Va., for a few late-night drinks on a covered patio at Jay's Saloon & Grille. Saturday found us taking the Metro north to Bethesda, where we met up with Brian and Steve for beers, appetizers, and a few rounds of pool at Union Jack's. From there, we headed to Matchbox in Washington for mini-burgers and brick-oven pizza.
We then made our way to RFK Stadium for a Nationals game with the rest of the group: Larry, Brandon, and Doug. Before we went inside, I noticed a few towering presidential mascots milling around. Tony informed me that the likenesses of Washington, Jefferson, Lincoln, and Teddy Roosevelt take part in a hilarious Presidents Race during the middle of the fourth inning of each game. Naturally, I couldn't resist getting a group photo with TR: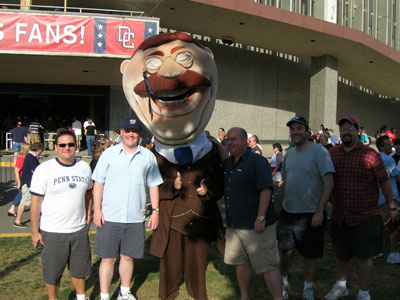 (For some unknown reason, Teddy has never won a race since the competitions started last season. But the guy just keeps on smiling!)
As for the game itself, the last-place Nationals led the Indians for most of the evening and held a 3–1 lead through eight innings. But D.C. closer Chad Cordero gave up a three-run homer in the top of the ninth, and although the Nats loaded the bases in the bottom half of the inning, they ended the game with a base-running gaffe and suffered a 4–3 defeat.
A few post-game drinks at Marty's on Barracks Row and a Sunday morning brunch at the Silver Diner in Arlington closed out the weekend. Thanks for a great time, guys!
[ No. 351 ]
I'm rarely amused by bumper stickers, but the one I spotted on the way home earlier tonight is a winner: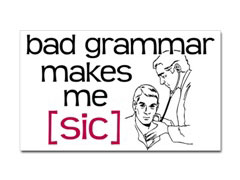 Not surprisingly, a single Google search on that phrase will direct you to an entire family of products for sale. (It's also worth noting that the same online store offers another large collection of items that are imprinted with some good advice: NO ONE CARES ABOUT YOUR BLOG.)
[ No. 350 ]
Image credit: One Horse Shy
Last Friday, CBS aired the final taping of The Price Is Right, bringing Bob Barker's remarkable 35-year run on the show to a close.
I loved the show when I was young, and I certainly spent many summer mornings and snow days watching The Price Is Right. Sure, the sets were gaudy and the T-shirt-clad contestants often acted like mental patients — but when you're 10 years old, that's a perfect recipe for entertainment.
It's safe to say that I have far too many favorite memories of the show:
The frenzied introduction framed in flashing light bulbs, ending with a roar from the audience as Bob Barker emerges from the telescopic stage doors.
Cliff Hangers, with its yodeling mechanical mountain climber (although, at a young age, I got very upset by the sight of him falling off the edge).
Any game that requires the announcer to bellow, "A brand new car!"
Race Game, especially for its frenetic saloon piano music while the contestant scurries back and forth while trying to match four price tags to four prizes.
Range Game, with its spooky sound effects and Bob's hilarious warning to not press the

STOP

button prematurely, since the game can't be reset for 37 hours.
The drama of the Big Wheel, especially when a contestant lands on the $1.00 mark, wins $1,000, and gets a bonus spin for a chance at another $10,000.
The extremely rare moment when a contestant guesses the Actual Retail Price Without Going Over within a razor-thin margin and wins both showcases.
(However, unlike a lot of people, I never cared for Plinko. Sure, contestants could win $25,000 or $50,000, but they rarely won a quarter of the top amount.)
On a related note, thanks to my friend Larry for passing along a terrific Washington Post article from last month about the popularity of Bob Barker and TPIR over the years. (Seriously, take the time to read that article. Each reference to a contestant is set in CAPITAL LETTERS, just like their name tags, and I love the author's vivid descriptions of the set, such as "chunky stagflation-era typography" and "glittery sets that appear to be covered in the felty hides of genuine Muppets.")
Thanks for 35 years of fun-filled TV, Bob! You'll be missed.
[ No. 349 ]
While I was at the Jersey shore over the weekend, two of my friends from back home contacted me separately with jaw-dropping news: the Phillies, faced with mounting injuries among their pitching staff, re-signed Jose Mesa, the worst relief pitcher I have ever seen.
During his third season with the Phillies in 2003, Jose Mesa (a.k.a. "Joe Table") posted a 6.52 ERA and suffered several late-game collapses. In fact, I hold him personally responsible for playing a major role in the team's failure to capture a wild-card spot in the playoffs that year.
Mesa even found ways to win ugly. During one game at the Vet in 2003, my friend Jeff and I howled in protest when Mesa took the field with a ninth-inning 10–3 lead over the Padres. Mesa gave up a home run on his first pitch and loaded the bases before managing to retire the side and get the save.
Fast-forward to this afternoon. Mesa started where he left off with the Phillies, giving up two runs on wild pitches during a 17–5 rout at the hands of the Royals, a team that's 16 games under .500 and in last place in their division.
You heard it here first: if Mesa remains on the roster for the remainder of the season, the Phillies will miss the playoffs for the 14th consecutive year.
[ No. 348 ]
I'm not proud of my occasional schadenfreude*; I know I shouldn't openly enjoy someone else's misfortune. But when that someone else is Paris Hilton — arguably the most ridiculous human being on the planet — and the national news runs a photo of her crying in the back seat of a cop car on her way back to jail, I simply can't resist laughing: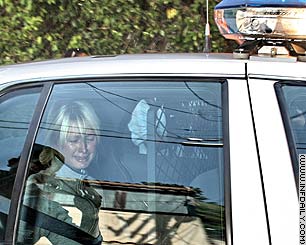 There are millions of law-abiding citizens in this country with more significant (and less self-inflicted) problems than you, Paris. Just accept the fact that the rules actually do apply to you, serve the rest of your sentence, and do the right thing — for once in your aimless, spoiled life.
---
* Update: My friend Chris writes:
I enjoyed your use of the word schadenfreude in your entry about everyone's favorite socialite. I don't know if you are a fan of the show Boston Legal, but there is an episode about schadenfreude. I watched the episode a couple of days ago as I just bought season 2.
Nope, I haven't watched much Boston Legal, but any show that uses a great word like schadenfreude is OK with me.
[ No. 347 ]
Leave it to our government to come up with ideas that sound good in theory but completely fail in practice.
"Forever" stamps, which were introduced in May, remain valid regardless of future price increases. Just one problem: they don't make financial sense, according to a recent article in Slate.
Since the U.S. Postal Service was formed in 1971, inflation has increased more rapidly than the price of stamps. That means stamps are getting cheaper over time. A 13-cent stamp from 1975 is worth 50 cents today, and a 20-cent stamp from 1981 is now worth 45 cents — but today's stamps only cost 41 cents.
And thanks to a new law signed by President Bush last year, any future increases are required to stay under the inflation rate. So don't bother hoarding forever stamps as a long-term investment, and don't hesitate to buy 41-cent stamps, either.*
---
* Update: My friend Tony writes:
The forever stamp is not rocket science, true dat. But I think the feds were just sick and tired about people complaining every time they raise the price of a stamp. We'll pay $2 for a bottle of water, $4 for a coffee, $40 to watch the Nationals or Phillies, $80 for a nice dinner — but we want to pay 3 cents to have a letter delivered 1,256 miles to our grandmother. The forever stamp should be a nice way for the postman to say "stick it up your mailbox" when people moan and groan. And they will moan and groan. I think that's what we do best.
Well said, Tony. When you really think about it, it is pretty amazing that you can send a document across the country for less than half a dollar.
[ No. 346 ]
Thought I'd share two great photos that I received this week.
I always suspected that being a professional mascot would yield plenty of fringe benefits, and Mr. Met has proven me right. Click on the photo for the high-resolution version:
The story and full photo album are even funnier. But why wasn't Mr. Met one of the choices during Career Day in high school? (Thanks to Larry for the link.)
After embarrassing losses in the 2000 and 2004 elections, you'd expect the Democratic candidates for the 2008 presidential race to understand the importance of clear communication. But that's apparently lost on Hillary Clinton, and just in time for the National Spelling Bee:
Granted, the story was posted on Fox News, which is usually neither fair nor balanced. But really, nothing instills voter confidence like a misspelled banner directly over a candidate's head. Perhaps the first

NEW JOB FOR TOMMORROW

should be a copyeditor. (A polite golf clap to Jeff for passing along the story.)
[ No. 345 ]
Photo credits: Paul Tamburro / Deadspin (Mr. Met);
Fox News / AP (Hillary Clinton)