Archives
Before finishing in eighth place in the Big Ten last year, the Penn State men's basketball team had placed dead last in the conference for four straight seasons (2001–02 through 2004–05) and recorded just eight conference wins over those four years. So it's not very often that I can pass along good news about the PSU hoops squad.
But yesterday, Penn State defeated VMI by a score of 129–111, shattering the previous all-time PSU scoring record* of 110, which was set back in 1954. Better yet, according to the game recap on the official PSU men's hoops site, their current record of 9–4 is tied for their best record before heading into conference play. Maybe things are finally looking up for Penn State men's basketball!
* Note: This month has certainly seen more than its share of scoring anomalies in college basketball. Last Thursday, No. 12 Texas A&M jumped out to a 28–0 lead before destroying Grambling State, 101–27, which is the most lopsided Division I-A score that I can remember.
And if that's not enough, Lincoln University, from Division III, steamrolled Ohio State–Marion, 201–78, on Dec. 2. The 123-point margin of victory set an all-time NCAA record. (Apparently, there were some bad feelings about the blowout, since Ohio State–Marion isn't even a true NCAA team; in fact, they were a last-minute replacement in a tournament, and none of their five starters made the trip. Even their coach played in the game.)
Incredibly, the score of 201 points was only a Division III record; Troy University, from Division II, set the overall NCAA mark with a 258–141 victory over DeVry Institute of Atlanta on Jan. 12, 1992.
[ No. 308 ]
I've endured my share of harsh winters over the years. In particular, I vividly remember getting buried under tons of snow in State College — we received over 90 inches of snow during three out of my four winters there, including a record 109.3 inches (over nine feet!) in 1993–94, my sophomore year. I also had the privilege of experiencing firsthand the town's all-time record low temperature of −18° on Jan. 19–20, 1994.*
By comparison, winters in the Philly area are usually cold but manageable, but some, like the recent winter of 2002–03, can be bitterly cold and snowy, too. So, given my past experience with Old Man Winter, you'd probably assume that I would welcome a mild winter with open arms.
Well, think again. Christmas just didn't feel the same without a chill in the air, and if the unseasonably mild temperatures (i.e., frequent highs in the 50s) persist, my plans for our shore house group's third annual Jack Frost ski trip in late January will be in serious danger. No cold, no snow, no skiing.
And putting my selfish concern about winter sports aside, I can't help but wonder if these mild conditions are just a short-term meteorological aberration, or if global warming is starting to set in.
---
* Update: My friend John — who attended PSU at the same time as me, but whom I didn't meet until a few years after graduation — writes:
I also vividly remember this day. I trekked to Willard Building from my cozy Mifflin abode in the frosty air. Did I mention it was an 8

a.m.

class? Oh, I do have lovely memories of my vector calculus class, but that was not among them. The school subsequently closed at 10

a.m.

Drs. Jacobi and Stokes trumped Dr. Fahrenheit that day!
OK, I must admit two things here: (1) John has a much clearer memory of that bone-chilling morning than I do, and (2) there's a good chance that I skipped my first class that day.
Believe me, over the course of my four years at Dear Old State, I was absent from very few classes. But the combination of my remote location in Sproul Hall (as opposed to John's central spot in Mifflin Hall, where I lived the following year) and the brutally cold weather was simply too much to overcome on a few frigid mornings in early 1994.
[ No. 307 ]
When I was a kid, our house was filled with a wide variety of Christmas music every December, including Merry Christmas (1958) by Johnny Mathis, The Christmas Song (1963) by Nat King Cole, and Christmas Portrait (1978) by the Carpenters, among others.
But one album — and yes, I clearly remember the music in the form of vinyl LPs on the turntable in our family room — stood out from the rest: We Wish You a Merry Christmas, recorded by Ray Conniff and the Ray Conniff Singers in 1962.
First, a few words about the original album cover: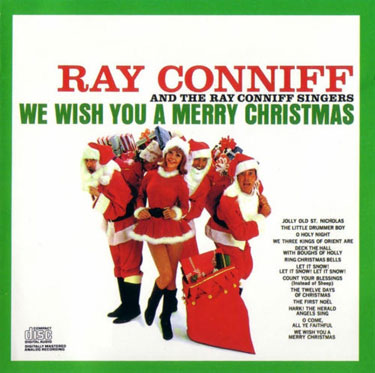 The cover art always made me smile; the singers dressed in Santa suits looked like they were really having fun. (And for some reason, I didn't seem to notice the skimpiness of the blonde's Mrs. Claus outfit until I was much older.)
The music itself is really impressive. Most of the carols are arranged in medleys, with each song seamlessly woven into the next. The vocal harmonies of the 25 singers are gorgeous, and the orchestral arrangements, often highlighted by sleigh bells and a harp, are flawless. To this day, I get chills from the pealing chimes during the bridge of "Ring Christmas Bells" and the thunderous percussion and soaring voices in the final verse of "The Twelve Days of Christmas."
It's truly amazing how this album still evokes many fond childhood memories for me. And if you're looking for a timeless collection of festive Christmas music, make sure to pick up a copy of We Wish You a Merry Christmas. (It's still widely available in CD format, even 44 years after its original release.)
* * * * *
Also, one interesting side note for those in the Philly area:
A few years ago, I bought another Christmas album by the Ray Conniff Singers, Christmas with Conniff (1959). The album, while quite good, falls a little short of We Wish You a Merry Christmas. However, I immediately recognized its cheery renditions of "Frosty the Snowman" and "Rudolph the Red-Nosed Reindeer" as the original versions used in the famous Christmas Light Show at Wanamaker's department store in Philadelphia.
[ No. 306 ]
Image credit: Amazon.com
Thank you, Time magazine, for naming me Person of the Year for 2006. Really, it's quite a prestigious and unexpected honor, and the achievement will look fantastic on my résumé.
In all seriousness, I think the magazine's selection of "You" (apparently shorthand for anyone actively participating in the Information Age) is an uninspired and lazy choice. Here's my theory behind their decision:
It was Friday afternoon at Time HQ. The holiday party was already getting underway downstairs, but unfortunately, the Person of the Year team had reached an impasse between a few worthy candidates. So they quickly bestowed the honor on a nameless catch-all, "You," so they could arrive at the party before the rest of the staff ate all of the shrimp cocktail.
[ No. 305 ]
Just in time for the holidays, I had the privilege of participating in a group event called "Beer Around the World." Here's how it works:
Ask a few close friends if they'd like to help you organize a beer project, and have them read through the following process so they know what's involved. Trust me, you will need some help with this undertaking.
Ask your larger circle of friends if they'd be interested in purchasing one or more cases of premium beer from various countries. Stop when you have a firm commitment for a total of 24 cases or any exact multiple of 24. (Among my friends, we actually had enough demand for 48 cases.)
Select 24 brands of beer, each one from a different country.* You might want to ask your local beer distributor for recommendations; the fine folks at Kunda Beverage really helped us by making some great suggestions in terms of quality and availability.
Place the order for the beer a few weeks in advance, and collect the money up front — 24 cases of imported beer can easily cost $800. For us, it worked out to about $35 per case; that's less than $1.50 per bottle.
Pick up your order using the largest vehicle(s) possible. We brought a minivan and an SUV to transport our massive order of suds, and incredibly, the guy at the loading dock managed to fit all 48 cases into our friend Paul's minivan alone:
(We redistributed half of the cases into the SUV before leaving.)
From among the group of organizers, pick the person whose house has the most room. You'll need plenty of space (and a couple of hours) to unload all the cases of beer and rearrange them into sampler packs. For our collection of 48 cases, an empty first-floor room and an adjoining center hall with three long folding tables at our friend Jenn's house was large enough to accommodate only half of the 1,152 bottles of beer that we had purchased:
Seal the sampler cases with packing tape, and load them back into the vehicle of your choice. Then make arrangements to deliver them to your group of friends in a central place.
Personally, I ordered two cases, and I'm looking forward to trying them over the next few weeks!
---
* Note: Here's the full list of beers that we selected:
Quilmes (Argentina)
Coopers Pale Ale (Australia)
Corsendonk Christmas Ale (Belgium)
Maudite (Canada)
Tsingtao (China)
Pilsner Urquell (Czech Republic)
Presidente (Dominican Republic)
Old Speckled Hen (England)
Kronenbourg 1664 (France)
Paulaner Hefe-Weizen (Germany)
Aris (Greece)
Kingfisher Lager (India)
Smithwick's (Ireland)
Peroni (Italy)
Sapporo (Japan)
Tusker (Kenya)
Negra Modelo (Mexico)
Cristal (Peru)
San Miguel (Philippines)
Żywiec (Poland)
Sagres (Portugal)
McEwan's Scotch Ale (Scotland)
Hite (South Korea)
Singha (Thailand)
[ No. 304 ]
Perhaps this is a dumb question, but if you bought an inexpensive box of 18 glass Christmas ball ornaments, wouldn't you expect the package to include hooks for them?
If not, then maybe I'm the only one who missed the memo that absolutely everything under the sun is now "sold separately."
[ No. 303 ]
The golden rule for entrepreneurs has always been simple: Do what you love, and the money will follow. Well, if one's love for something truly equates into a large bank account, then Brian Jones from Cleveland might become a very rich man someday.
An avid fan of the 1983 movie, A Christmas Story, Jones started successfully selling homemade replica leg lamps ("It's a major award!") in 2003 — but that was only the beginning. The following December, he actually purchased Ralphie's house from the film in an online auction, restored the structure (originally built in 1895), and opened it for public tours starting this year.
It's great to know that the house from such a classic movie will be preserved for many years to come. (I wish the same could be said of the original Delta House from Animal House, which was tragically demolished 20 years ago.)
[ No. 302 ]
I have officially determined the textbook definition of extreme laziness in a five-floor office building:
Taking the elevator down one floor, even though you're not carrying anything and you don't appear to have any sort of physical ailment. (Seriously, when did walking down a single flight of stairs become too strenuous?)
But I've never said a word to such a passenger on the elevator, because if I ever dared to complain, the person would almost certainly respond by wordlessly removing his or her artificial leg, and then hold it up for my close inspection.
[ No. 301 ]