Archives
Although I try to stay informed about current events, I've never thought of myself as a political junkie — so I'm not exactly sure why I've been really looking forward to the presidential debates this year.
Perhaps it's because this is the first presidential election since 9/11, so the decision over the next commander-in-chief is even more crucial than before. Or maybe the chasm between the two parties has become so wide that any discussion between them is sure to be entertaining. (For the record, I'm a registered independent without any strong allegiance toward either party, so extreme liberalism and extreme conservatism are equally amusing to me.)
Both TV viewers and political analysts usually get hung up on a single question: "Who won?" To me, that doesn't really matter — "winning" a debate doesn't guarantee any electoral votes. At this point, it's more important to filter out the messages that each candidate presents.
During the first debate* that aired earlier tonight, Bush was correct in stating that we need to "stay on the offensive" in the war against terror; the U.S. certainly cannot afford to show weakness toward its enemies. However, Kerry made a valid point about Bush's unwavering convictions about the war: "It's one thing to be certain, but you can be certain and be wrong."
An interesting first round in this political prizefight — plenty of substantive issues, few character attacks (for once!), but no knockouts yet.
Up next: Cheney vs. Edwards (Oct. 5); Bush vs. Kerry (Oct. 8, Oct. 13).
---
* Update: If you missed the first debate on TV, you can read the transcript.
[ No. 118 ]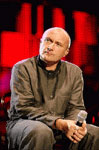 Took my sister Meg to see Phil Collins at the Wachovia Center on his First Final Farewell Tour. I know, a lot of artists embark on several so-called "farewell" tours, and even the ticket stubs for this show playfully announced A FINAL (?) EVENING WITH PHIL COLLINS — but his comments between songs made it pretty clear that this is it.
I've followed Phil's career for a long time — during his more prolific years, I went to see him perform at three solo shows (1990, 1994, and 1997) and once with Genesis (a visually stunning 1992 show at the Vet). But it had been several years since he'd launched a major tour, and I was glad to catch him this last time.
Meg and I had great some seats in the front row of the mezzanine level, stage left. From our unobstructed view, I counted a total of 16 musicians in his supporting band! And Phil demonstrated that he's still a great showman, jogging around the stage during the uptempo numbers and harmonizing nicely with his backup singers on the ballads.
Highlights included an impressive drum trio to kick off the big show; a seven-part, a cappella cover of "True Colors"; hilarious clips of the original videos for the 1980 Genesis hit "Misunderstanding" and Phil's 1981 solo single "I Missed Again" on the screens above the stage; an explosion of streamers and confetti during the first set closer, "Sussudio"; and the appropriate encore finale, "Take Me Home."
My dad later asked, "Did he play 'In the Air Tonight'?" The answer is yes, and the song had never sounded better. (And if you think you know the story behind that song's lyrics, you're probably misinformed — it's an urban legend.)
It was quite a production — you can't argue with 2½ hours of non-stop hits from one of your favorite artists. Thanks for "one more night," Phil!
[ No. 117 ]
Photo credit: Phil Collins
"Got the band back together" — me, Brian, Steve, Marc, his wife Sarah, his sister Lisa, and Lisa's husband Jim — for a long-awaited PSU football weekend.
Met up with Brian in the Philly suburbs on Friday morning, enjoyed some great eggs Benedict at the nearby Classic Diner, and completed the trek to State College by mid-afternoon. As heavy rain fell on Happy Valley, we both caught a long afternoon nap, joined Steve for some ribs and steaks at Damon's, and then met up with Marc and Jim for late-night drinks at Mad Mex, conveniently located in our hotel lobby.
Caught up with the whole group for an action-packed Saturday: a light breakfast at Panera, a familiar uphill walk through campus to the stadium, an unexpectedly sun-splashed afternoon game (and a sloppy 37–13 PSU win over hapless Central Florida), and some post-game tailgating with the O'Donnells, the family of Marc's old roommate Mike.
We closed out the day with a laughter-filled dinner at the Tavern and a few pitchers at Café 210 West, where the bouncer initially refused to let me in because he thought my reddened face was a clear sign of excessive drinking. ("Actually, you big dope, I only had two beers with dinner and got sunburned at the game. Get off your power trip." Well, maybe I spoke more politely than that, but I was really annoyed at receiving the third degree.)
On Sunday, after finishing a breakfast buffet at the Corner Room and checking out of the hotel, Brian and I hit the road. But the remnants of Hurricane Ivan had ravaged the local roads over the weekend — Route 322 was closed, and our alternate path of Routes 45 West and 11/15 South led us toward huge traffic jams north of Harrisburg, which had suffered severe flooding.
Fortunately, my parents were heading in the same direction about 30 minutes ahead of us, so my dad called my cell phone and gave us the heads-up on another detour via Routes 274 West and 34 South that finally led us to the promised land: the eastbound Pennsylvania Turnpike. Our typical 170-mile, three-hour trip required 236 miles and nearly five hours of driving, but we arrived home before dark and in one piece.
After such a long drive home, I'm looking forward to a stress-free bus ride for the PSU homecoming game in late October. But all in all, this weekend was pretty hard to beat.
[ No. 116 ]
Before I forget, here are two gems from the Jersey shore that took place earlier this summer:
There were many times when we collectively wondered if we had bought enough beverages for the weekend. On one particular occasion, after a brief debate among some of us, our housemate Rob delivered his verdict:
"I think we should err on the side of 'get beer.'"
And that we did.
Over Fourth of July weekend, a number of us were at the Whitebrier for some drinks. The place was packed, and I was getting increasingly cranky as the night wore on. Suddenly, a woman behind me tapped me on the shoulder and addressed me curtly:
"Babe."
Given the crowd jostling for position at the bar, I assumed that she'd meant for me to get out of her way. I turned around, and for some reason, slowly said:
"I believe the words you're searching for are 'excuse me.'"
The overdressed brunette, probably in her mid-30s, exploded at me. Her breathless, high-pitched tirade included something about her thinking I was someone else, that I needed to settle down, and what the hell was the matter with me?! I tried to explain that she had initally come across as rude, but she continued yelling at me until she delivered the funniest insult I've ever heard:
"Captain Loser!"
I was so stunned by that strange put-down that I couldn't even muster a comeback before she stomped off. Not only does she think that I'm a loser, but a commanding officer in the National Brigade of Losers?
So, it turns out that I was right — she was rude, after all. But I sure have a way with the ladies, don't I?
[ No. 115 ]
It was a strange final weekend at our group's shore house in Avalon:
I've been told that I sometimes talk (and even laugh) in my sleep, but this weekend, my friend Kevin informed me that, in the middle of the night, I actually uttered the phrase "duly noted" while unconscious. What does that mean?
Some of the girls kept finding red plastic monkeys scattered on the beach and on the sidewalks near our house.
The Princeton, a sprawling labyrinth of a bar that's usually overcrowded and hot as hell, was almost pleasant — many of the rooms were closed off, and the post–Labor Day crowd seemed much more mellow.
After finishing off our final supply of beer and clearing out the aging food products that had turned into science projects, we finally rediscovered the back wall of the refrigerator.
[ No. 114 ]