Archives
I haven't been watching all that much of the 2004 Democratic National Convention. Politically, I'm a moderate without strong feelings for either party, but I feel a little guilty that I haven't paid close attention to the convention coverage this week.
Then again, the national conventions have become rather pointless in recent years. We already know the parties' choices well before the conventions start — of course Kerry is the "presumptive" candidate; do we really need four days of speeches and pageantry to make that official? The same goes for Bush and the upcoming Republican Convention — isn't it slightly redundant, if not downright wasteful, to host a convention for an incumbent seeking re-election?
Even if there were a compelling reason to hold conventions, most of the delegates who attend them don't serve any purpose other than to applaud, cheer wildly, and wave at the roaming TV cameras like giddy teenagers on American Bandstand. Seriously, don't these people have anything better to do?
And it wouldn't be a convention without a series of impassioned speeches to rally the troops and generate some sound bites along the way, but the speakers are simply preaching to their own choir. Although they implore their supporters to vote for a "stronger America" and a "brighter future" (I wonder if those phrases are trademarked by now), they don't really convey any message other than, "we're better than the other guys."
Let's dispense with the self-congratulatory pep rallies and get to the issues — and there are a lot of important ones this year. Given the bitter division between the parties, the presidential debates should be very entertaining.
[ No. 106 ]
For your amusement:*
"Laid Off: Career Day" from oddtodd.com.
Check out the latest cartoon from unemployed genius Odd Todd — it's one of his best. Highlight quote: "It's customer service, not customer argument."
Google, circa 1960 from fury.com.
Very clever parody from an actual Google employee. But the date that he chose is slightly off — ZIP codes didn't arrive until 1963.
Possible Follow-up Songs for One-hit Wonders from mcsweeneys.net.
Simply brilliant. I like "Bust an Additional Move" (you've gotta love Young M.C.), but my friend Paul is partial to "Everybody Was Kung Fu Making Up."
---
* Update: The guys over at jibjab.com are at it again with "This Land" — Bush and Kerry trade insults to the tune of an old Woody Guthrie standard. Hilarious animation for supporters of the "liberal sissy" challenger and the "right-wing nut-job" incumbent alike.
[ No. 105 ]
Returned to Penn's Landing to attend the Friday night installment of the WXPN Singer Songwriter Weekend, featuring opening act Rachael Yamagata and headliners Fountains of Wayne.
I didn't pay that much attention to Yamagata's set — her angst-ridden songs were fairly boring, to be honest. But I enjoyed seeing Fountains of Wayne, one of my new favorite bands, for the first time. They weren't quite as talkative as I'd expected them to be, but they sounded great and definitely have a good sense of humor.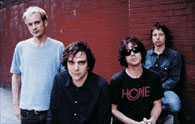 Noticing the large but mostly passive crowd sitting Indian-style in the Great Plaza amphitheater, bassist Adam Schlesinger asked, "Hey, is this the Lilith Fair? Feel free to stand up and sing along!"
Also, before playing their infectious acoustic song, "Hey Julie," lead singer Chris Collingwood said, "As you can probably tell, we can't afford a real percussion section. What do we look like — Gloria Estefan, or something? Anyway, we've asked our roadies to help us out on percussion on this one." And that they did.
And even though I already own a copy of their latest CD, Welcome Interstate Managers (a very catchy album, by the way), I couldn't resist buying an autographed copy at the artist merchandise table before the show.
[ No. 104 ]
Photo credit: Fountains of Wayne
One of my favorite Web sites, All Music Guide, was relaunched earlier this week with a completely new design. But despite all of the snazzy new graphics, the site no longer works the way it used to.
In fact, the AMG redesign is so ineffective that I actually took the time to contact them about it. They're aware of most of these issues already, but I've gotta take a stand for usability here. The new site's "features" include:
Much slower performance than before, even on a high-speed connection
Frequent error messages ("we apologize for the temporary connection delay")
Nearly illegible text in the "New Releases" section, directly on the home page
Awkward tab-style navigation that requires more clicking around
A registration process for certain parts of the site that requires an intrusive amount of personal data, include one's annual income
To be fair, I acknowledged that they're running a free Web site with limited resources, and that as a professional Web developer, I certainly understand the complexity of redesigning a dynamic site. But I concluded my feedback with this burning question:
The old version of AMG was both popular and functional. Why did you break something that didn't really need to be fixed?
The folks at AMG don't owe me a thing, of course, but I'd love to hear their answer.*
---
* Update: Surprisingly, I did hear back from AMG in an e-mail on July 19, even though most of their message appears to be a canned response:
Thanks for your feedback. We realized when we set out to redesign and expand allmusic that some of our users would be unhappy with change. But we feel strongly that it's time for allmusic to move on and deliver more of the content and functionality that so many of users were asking us for. We believe that once you spend some time on the site and really explore all of the new content and searching functionality, you'll see that this unique resource is better than ever.
Please visit the Site Guide and the FAQs on allmusic for more explanation of the new features and formats.
Thanks for your feedback. The response time of the new site will improve as we complete deployment and balancing. We appreciate your patience.
Best Regards,
AMG
OK, I'll give them some credit — the site does seem to load faster now. But the hard-to-read text still appears on the home page for some reason, and the previous content layout was easier to navigate.
[ No. 103 ]
Finally had the chance to see Guster in concert, along with opening acts Rufus Wainwright and Ben Folds, at Penn's Landing.
I attended the outdoor show with my sister Meg and her friend Alexis, and the rain-or-shine policy was no joke — a steady rain fell during Wainwright's opening set, and umbrellas weren't allowed at the venue. But the skies cleared later on, and the mood brightened considerably.
The collaboration among the performers was impressive. Wainwright returned to the stage to join Folds in a hilarious duet cover of "Careless Whisper" by Wham!, and Folds jammed on a grand piano with Guster during the finale, a bossa-nova rendition of "All the Way Up to Heaven," one of my all-time favorite tunes.
[ No. 102 ]