Archives
Took a day trip with my dad to State College to attend the Blue-White Game, Penn State's annual spring football scrimmage, for the first time in a few years.
Some highlights:
Spotted a unique flag flying over an RV parked outside Beaver Stadium:
This is a great inside joke — Penn State's original colors were pink and black, believe it or not. The student body selected that garish color scheme in 1887, but fortunately switched to blue and white three years later.
Heard the Blue Band, dressed in blue T-shirts for the informal, warm-weather occasion, offer a paradoxical (and very funny) cheer during the practice game:

"Go! State! Beat! State!"

Watched a PSU football game that the Lions couldn't possibly lose, for once. (There might be some hope for this season, though — we saw some very creative plays under the direction of our new offensive coordinator, Galen Hall.)
[ No. 91 ]
Two of my friends from college happen to be Mets fans, so a bunch of us drove up to New York to see the Mets play Atlanta on opening day at Shea Stadium, which is celebrating its 40th anniversary this year.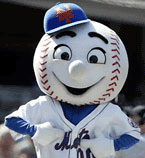 It was a wild game — the Mets jumped out to a 10–0 lead after five innings, but allowed the Braves to chip away until the tying run was at the plate with the bases loaded in the ninth! Fortunately, the Mets managed to end the late rally by completing a crucial double play and won their season opener, 10–6.
Pleasant surprise of the day: the hilarious sideshow entertainment by the other fans in our section. Their constant heckling reminded me of the 700-level crazies from Veterans Stadium, but check out Tony's site for a more detailed description of our neighbors in section 45 above right field.
Disappointment of the day: my failed mission to obtain a photo with the famed mascot Mr. Met, pictured above.
[ No. 90 ]
Photo credit: New York Mets
Faced with an overflowing laundry basket, I stopped by a local drug store after work today to buy some detergent and dryer sheets. A simple errand, right?
Wrong. I arrived second in line at the register, behind an elderly man who had decided to buy the store's entire supply of Red Man chewing tobacco. Twelve pouches of the stuff, filed vertically in a long cardboard box.
The cashier paged the manager to obtain some cash register code, and then proceeded to apply a 40-cent discount to each of the dozen identical items. She informed the gentleman of the total price, but he responded by asking how much she had charged him for each pack of tobacco.
At this point, the cashier became so visibly flustered that the customer finally noticed the long line that had formed behind him, nodded toward me, and mumbled, "Let this young man go ahead, I guess." The cashier repeated the fact that she'd given him the proper discount, handed over his purchase and change, and finally began to scan my items at the register.
I wasn't really in a big hurry, and I certainly don't expect the retail world to revolve around me, but there are too many customers like this. Some of them pay for a three-dollar purchase with only nickels and dimes, actually counting them aloud to the cashier. Others become indignant that a store can't honor coupons that had expired a month earlier. ("Store policy? What store policy?")
Why do these people insist on making simple transactions difficult?
[ No. 89 ]
My college buddies Steve and Brian joined me and my Philly-area friends from our local PSU alumni chapter on a weekend trip to State College.
We kicked off Friday night with a visit to the Saloon, where the band Velveeta rocked the basement bar with some great '80s cover tunes. I don't think our group looked terribly out of place among the students there, but I eventually realized that most of them hadn't even been born yet when the songs were first played on the radio.
After a quick breakfast at the Waffle Shop on Saturday morning, we headed up to Beaver Stadium for an incredible behind-the-scenes tour. Brian, Steve, and I then took a long walk around campus, making stops at the Creamery, the Nittany Lion Shrine, a few huge buildings that comprise the new "West Campus" area, and the Hintz Family Alumni Center.
A top-notch dinner at the Tavern was followed by an early arrival at the Phyrst (pronounced "first"), one of my favorite bars in State College. We spent the entire night drinking Yuengling Lager out of mason jars, telling hilarious stories from our college days, and singing along with the house band, the Phyrst Phamily. After overhearing a few of my friends ask each other, "Is that really him?", I turned around to discover that the washboard player on stage was none other than Graham Spanier, the president of Penn State University!
The following day, we stuck around for brunch at Perkins and some shopping on College Avenue, then headed home, feeling a little younger than when we'd arrived two days earlier.
[ No. 88 ]