Archives
Joined the family for a fun-filled weekend trip to New York City.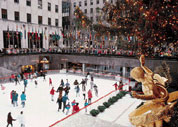 On Saturday, my sisters and I braved the holiday crowds to go ice skating at Rockefeller Center. Fortunately, none of us wiped out on the ice in front of the hundreds of onlookers. But our hour-long session at the rink was interrupted on several occasions by the PA announcer, who admonished the crowd against "racing, playing tag, horsing around, and most of all, shenanigans."
After working up an appetite on the ice, we all enjoyed a fantastic dinner at Tavern on the Green. Later, I met up with my friend Brian for a few drinks at a trendy bar on 39th Street called Wetbar, which employed some of the most gorgeous waitresses and bartenders I've ever seen.
Our plans didn't seem to go as well on Sunday, however. We spent three hours in a series of serpentine lines in order to visit the 86th-floor observatory at the Empire State Building — it's one of my favorite buildings in the world, and the view of the city is really impressive, but the wait was entirely too long.
Then, later that evening, our tickets to see The Lion King on Broadway were strangely missing at the will-call window through some mix-up with the ticket agency. (I noticed that a few other families in the lobby encountered the same problem, which provided a little solace.) So we settled on seeing Something's Gotta Give at a nearby multiplex instead.
On Monday, we paid a quick visit to the Chrysler Building lobby and Grand Central Terminal, then headed home back to Pennsylvania — but I still have another week off before heading back to work!
[ No. 73 ]
Photo credit: The Rink, Rockefeller Center
I enjoy many traditions during the holiday season, but there's one that I simply cannot stand: the perennial TV ad campaign for the Lexus December to Remember Sales Event.
Each commercial features a series of blissfully happy and rich families. In each scene, a family member discovers a strange key in a strategic location in their McMansion and wanders out to the driveway — where a gleaming new Lexus (topped with a giant red bow, naturally) is waiting for them!
The most offensive of these ads aired a year or two ago. Mom and Dad tell their daughter, who appears to be no older than 20, "We bought you a new CD player." Predictably, the blonde princess rushes outside to squeal with delight over her new SUV (premium sound system included, I assume).
I'm usually not one to preach against materialism during Christmas, but these ads are nauseating — especially when thousands of people are out of work or defending our country overseas. And how many people can actually afford to buy their spouse a new car for Christmas, let alone a luxury one?
[ No. 72 ]
At this point, I'm left to wonder why I even bother watching college football.
On Saturday night, Kansas State whipped top-ranked Oklahoma, 35–7, and USC jumped to first place in both polls. But according to the Bowl Championship Series — a system established in 1998 as an attempt to eliminate controversy — the Sooners, not the Trojans, will still battle LSU for the national title.
This is insane. No other collegiate sport relies on a ridiculous combination of subjective polls and computer-generated rankings to determine its champion. How many more teams will get cheated until the BCS is scrapped for a true playoff system?
[ No. 71 ]
I'm proud to announce the launch of monorailmike.com, version 2.0!
This site was originally designed in early 2001, when I only had a few months of experience in Web site development. In fact, monorailmike.com was little more than a design experiment when I first conceived it.
But since then, I've added new features such as a weblog (70* entries to date!) and a photo gallery — basically, lots of additional content which became increasingly difficult to manage using the original layout. I also wanted to practice using valid XHTML, which enforces recommended coding standards and improves usability.
I hope you enjoy the new design. Take a look around the site and let me know what you think!
---
* Update: The original count was 68, but after unexpectedly discovering two long-lost entries (Oct. 31, 2001, and Nov. 17, 2001) on the Internet Archive, I updated this value to 70.
[ No. 70 ]