Archives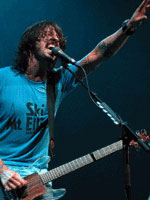 Crossed the bridge into Camden, N.J., to see Foo Fighters perform an indoor show at the Tweeter Center at the Waterfront — not my favorite concert venue, but I made an exception for such a great band.
The Foos delivered loud, boisterous rock, drawing heavily from their latest release, One by One. Of course, it wouldn't be a true Foo Fighters show without plenty of hilarious commentary from frontman Dave Grohl, who even offered a sarcastic tribute to Bon Jovi ("I'm a cowboy / On a steel horse I ride!") for the Jersey crowd.
One minor complaint: although Foo Fighters put on a rockin' live show, they've gotta select better opening artists. At the Foos' show in November 2000, restless fans were begging openers Queens of the Stone Age to leave the stage. This time, two bands warmed up the crowd — the first, Cave-In, were average, but the Transplants were so awful that my friends and I headed for the lobby after just three unbearable songs.
The headliners certainly made up for it, though. Check out their online "black box" for reviews, photos, and a set list from their Camden show.
[ No. 48 ]
Photo credit: David Smith / Foo Fighters
This just occurred to me over the weekend: did Saddam Hussein, in his infinite wisdom, name his sons Uday and Qusay using pig Latin?
And can you believe that Sony is attempting to trademark the phrase "shock and awe" for an upcoming video game? So far, over 100 Americans have died in service to their country, and some corporations are responding by waging their own war* over the rights to a catchphrase in order to profit from the conflict.
---
* Update: After being widely denounced for its tasteless opportunism, Sony later withdrew its trademark application.
[ No. 47 ]