Archives
Visited the American Modern, 1925–1940: Design for a New Age exhibit at the Pennsylvania Academy of Fine Arts in Philadelphia. I really enjoyed viewing such a fine collection of art deco furniture and housewares — I've always appreciated that clean, streamlined type of design in art and architecture.
Interestingly, many of the cocktail shakers and glassware on display were designed during Prohibition. But I guess the Great Depression drove many people to drink heavily whether it was legal or not.
[ No. 16 ]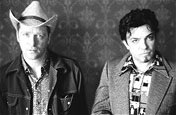 Went to see Cracker perform live at the Trocadero in Philly. Very entertaining show — just straight-ahead, no-frills Southern rock. A lot of people probably came to hear their hits "Low" and "Get Off This," but the new material from their latest release, Forever, was just as good. For me, getting to see a live rendition of "Mr. Wrong" (a hilarious country-style song about an unapologetic jerk) was worth the ticket price alone.
Pleasant surprise of the evening: opening artist Garrison Starr, a young singer/songwriter originally from Mississippi. Her set was full of catchy songs with solid musicianship and clear, expressive vocals. In fact, her performance was so impressive that I've added her latest album, Songs from Take-off to Landing, to my list of new CDs to buy.
[ No. 15 ]
Photo credit: Citysearch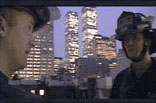 Last night, I watched the remarkable CBS documentary 9/11 — a vivid, firsthand account from the perspective of a Manhattan firehouse. The film painted an honest, human portrait of the firemen on duty, but never exploited the tragedy or its victims. It was amazing to watch the video footage with the knowledge that the amateur cameraman actually lived to tell his story.
It's hard to believe that it's been six months since that terrible day. Even though I was extremely fortunate not to lose any family or friends in the attacks, I feel older, somewhat disillusioned, and still anxious about our collective future.
Where do we go from here?
[ No. 14 ]
Photo credit: CBS