Archives
Met up with my old college buddies Tony, Larry, and Chris for a day-long pub crawl in Arlington, Georgetown, and Capitol Hill. Visited a total of 10 great bars over the course of the day. Yes, my liver is still recovering.
Along the way, we stopped by the D.C. counterpart to one of my favorite Philly hangouts, Fadó Irish Pub. But the experience wasn't quite the same — the low lighting and Old World decor (wooden crates and such) resembled Pirates of the Caribbean more than an Irish bar. I felt a sudden urge to start singing, "Yo ho, yo ho, a pirate's life for me." But fortunately for my fellow bar patrons, I decided against it.
[ No. 13 ]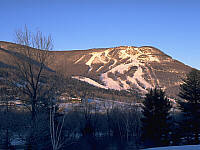 Joined some friends on a local PSU chapter ski trip to Hunter Mountain in upstate New York. Managed to brave a few intermediate trails without any major wipeouts. But then again, I tend to avoid trails whose very names imply death, insanity, or other sort of peril. So, the black-diamond slopes such as "Hellgate" and "Mad Box" were better left alone.
One other thing I noticed — is it any coincidence that the color codes for expert and intermediate trails are black and blue?
[ No. 12 ]
Photo credit: Hunter Mountain